 Some of fashion's most influential people have a signature style that's almost like a uniform. Anna Wintour's bob,  furs and shades. Donatella's tan, eyeliner and blonde hair. (I use the word 'hair' loosely here).   Michael Kors with his jeans and black t-shirts. (Now his look is just pure laziness, he is a designer for heaven's sake.  If you don't wear fashion Mick, then why should we buy yours?)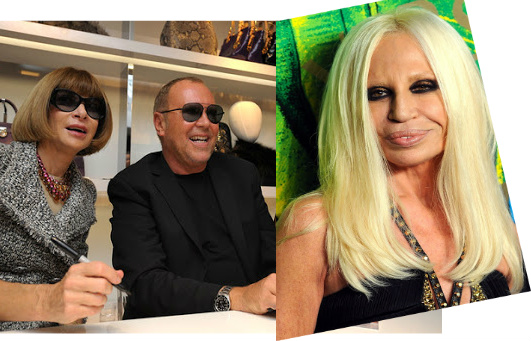 They obviously feel that it's fine to go with a look that they think works for them and that's actually something that a lot of us do - possibly without even realising it. I have a friend who lives in Latvia and the last time I visited her she commented that everything I wore was just a variation of the same style - short dress, leggings, and knee length boots. She was right. Crap.
I realised that when I want to look good, I go for that look. If Halle Berry can do it every time with her trouser suits, why can't I with my dresses?  But after her comments I decided I'd try to shake things up a bit.
I didn't go totally crazy but I wore things I had in my wardrobe that I like, but wouldn't normally have chosen.  When I collected her from the airport I wore skinny green trousers, a girlie shirt and a smart cropped jacket with ankle boots. The next day it was skinny jeans with a Breton striped top and wedged trainers. The following day…you get the idea. On the last day I let myself revert to form and do you know what she said?
'Oh darling!' (Yeah, she calls me darling!) 'You look like yourself today. You look gorgeous.'
WTF?  Are you kidding me? I told her what I had been trying to do and she just laughed at me. It turns out that what she meant was that I have found my own 'style' and that it looks good on me!
However, the whole experience has encouraged me to make more of an effort to vary my style. And I have to admit I'm enjoying the variety I've managed to get into my wardrobe. But I still think if you find a look that suits you, it's ok to wear it – just try and use current trends to keep it updated.
Look at Jennifer Aniston, who always looks good but only ever seems to wear black, white and sleeveless outfits. She is certainly not a trendsetter but like Halle, she always looks good.
Advertised
Cate Blanchett loves fashion but sometimes she looks like she tried too hard and although the dress may be wonderful it does nothing for her. Or the other way around:  remember the alien dress? Hated it, but thought she looked amazing in it. Although I think that had a lot to do with the styling, her hair and makeup were flawless.
And Florence Welsh is so determined to be fashion forward she sometimes looks like she fell backwards into a clothes recycling bin.  Eeeeek.  All those layers and patterns and textures and colours...who lets her out the door? Does she not have a best friend?
Kim Kardashian, love her or hate her and her huge arse (sorry for the language but that is no ass – that is an arse!) knows what looks good on her and as long as she ignores Kanye's advice to swamp her figure almost always gets it right.
It's a difficult one because constantly reinventing yourself can be exhausting and expensive: but is sticking to the style that you know definitely suits you a bit... boring?
Which camp do you fall into? Do you like to try out new styles or do you usually play it safe?  Is it always an LBD on a night out for example - or do you like to shake it up?
To the comments!
Advertised
Get Beaut.ie Delivered
Stay updated with Beaut.ie newsletters full of the latest happenings at Beaut.ie as well as great offers and things we think you might find interesting .