 Paris fashion week is at its peak and between the Kardashian take over and exquisite fashion we are certainly being entertained. This week will see the end of a fashion month which has set the tone for Spring Summer 2015.
And the standard has been high, we've lots of trends to review and be inspired by. Paris is always the highlight, thanks to its magnetic names like Louis Vuitton and Stella McCartney.
But what have we learned both on and off the catwalk?
The Kardashian-West family travel well
Paris has seen a Kardashian take over. I don't need to explain the furore that follows Kim wherever she goes. North made her FROW debut at Balenciaga, a spot which editors strive for their entire careers (but North seems to have shattered those dreams). Kim was bowled over by prankster Vitalli Sediuk, they got booed for being late to Givenchy and sure we know how accepting Kanye is in that he sat there quietly having delayed the show. Just kidding, he felt the need to address the crowd.
So yeah, the Kardashian-Wests brought the attention to them rather than the catwalk. On a happier note, Kendall Jenner is taking the catwalk by storm, go her. We like her.
Advertised
The supermodels not only took to the catwalks of  Givenchy, they had a bit of a laugh as well.
Known for an eccentric sense of humour, Cara brought the best out of her model pals over dinner, after last week's show. Rosie Huntington-Whiteley, who we don't see too often on the catwalk, looked divine for Balmain, while Cara has also been leading the model pack at Stella McCartney just this morning. Karlie Kloss (who is also BFFs with Taylor Swift btw) looked sensational at Thierry Mugler wearing a cropped top and thigh-high split black skirt as well as the last show from designer Jean-Paul Gaultier. My goodness, I want her abs.
Ok not necessarily a name we all may be familiar with, but the French actress is my current style crush. Sitting on the FROW this week at at Chloé in a very on-trend monochrome outfit, she stands out for her inherent style, which is effortless and pared back. What Clemence does is set the tone for casual-chic; you don't necessarily have to wear heavy make up, and layers of trend driven pieces to look sophisticated. Here's to you Clemence and all your fabilisness.
Paris takes fashion to whole new levels I think. We have been wowed by New York, London and Milan, but Paris adds that je ne sais quoi to seasonal fashion. Designer Clare Waight Keller went for fluidity at Chloé, Balmain and Givenchy stuck to their formula of edginess and empowerment, and Stella McCartney and Isabel Marant pioneered the bohemian, more commerical side of fashion.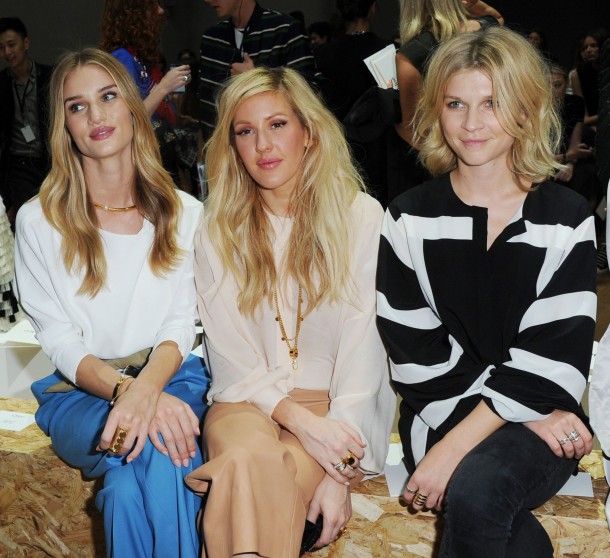 The overwhelming street style
Advertised
From outside the Jardin des Tuileries to the exquisite decor of the Opera House, each Paris Fashion week location attracts the epitome of street style. When I am at fashion week, I am solely concerned with getting through my schedule in one piece, make up still intact, and two working feet. Hence, I generally opt for some kind of chic/comfortable outfit; mostly includes a form of Nike runners. But not in Paris. Oh no, in Paris, we wear full length swinging trench coats, wide leg trousers, mid-size heels from Balenciaga and an oversize clutch bag. We wear huge Chanel sunglasses and our hair is perfectly polished. Paris exudes our inner chic goddess. And we all know goddesses don't wear runners...
Have you seen any pics from Paris Fashion Week? Have you a favourite collection so far?