 Oh Pancake Tuesday, my favorite of all holidays, how I love you. I could, of course, have pancakes any old time I wanted, but somehow they are extra special on the day they're sanctioned by religious and cultural tradition. Eggs, flour, milk, a bit of butter. So simple, yet so delicious.
Growing up, we only ever ate pancakes on Pancake Tuesday in my house and I couldn't imagine any different. In fact I distinctly remember the shock that accompanied the revelation that a neighbouring household often ate pancakes for dessert all year around. Even now that I'm all grown up and can make pancakes whenever I please (and I often do, though mainly it's the quicker and easier American-style breakfast pancakes), I still get the thrill of anticipation when the big day rolls around.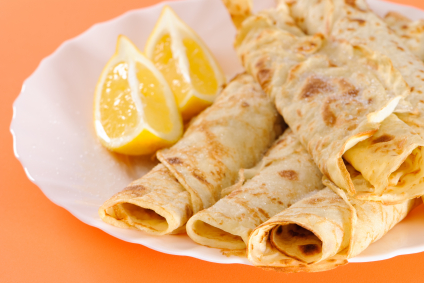 Traditionally we were a lemon and sugar household, sometimes going crazy with stewed apple and ice cream. I still have the lemon and sugar, but I also like nutella and banana, jam with some mild cream cheese or melted chocolate with ice cream on top (I have a sweet tooth, in case you can't tell). And where as kids we always had to eat a light dinner first and then got pancakes for dessert, I now forego dinner and make pancakes the main course.
Advertised
A fantastic (if labour-intensive) way of incorporating pancakes into a savoury meal is spinach and ricotta cannelloni, using pancakes instead of the cannelloni (the bonus is they're much easier to stuff). Or try roasted vegetables with goats cheese and a roasted red pepper sauce drizzled over the top (blend roasted peppers with garlic, a little oil, vinegar and seasoning and thank me later). And you can't go wrong with fried mushrooms, wilted spinach, sauteed chopped tomatoes and some cheese.
This year I'm very excited about trying dulce de leche on my pancakes - a divine creamy, caramel spread that I stumbled across in the supermarket recently. And I'll be keeping the sugar levels lower in the little monkeys by using almond butter with banana on theirs.
What will you be putting on your pancakes? Tell us in a comment below!