 The cold weather's here and if you're a naturally cold person, that means spending the next few months constantly trying to warm up. Here are some products you need to get to make getting warm and cosy quick and easy.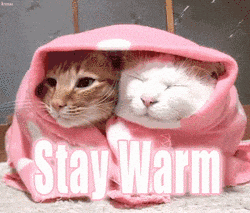 Thermal Tights
Who says you can't wear dresses or skirts in cold weather?
Give your dresses and skirts a new lease of life by picking up these thermal tights from ASOS which will keep you warm all day long.
They're available for purchase for €13.83.
Pocket-sized hand warmers
You should definitely stock up on these hand warmers that you can throw in the pockets of your coats on those extra chilly days or if you're going to be outside for a while.
You can pick them up in Halfords for €1.00.
Advertised
Alternatively, if you're trying to be more sustainable you should invest in a pair of good quality gloves.
This pair from ASOS are made from recycled polyester and you can still use your phone with them.
They're available for purchase for €6.91.
Faux Fur Insoles
Keep your feet warm with these super cosy faux fur insoles from Topshop.
You could pick up a few pairs for all of your most worn shoes so you won't have the hassle of taking out the insoles every time you wear different shoes.
This pair is currently on sale for €5.60 in Topshop.
Microwaveable Body Pillow
Microwavable body pillows are great to help you warm up when a blanket just isn't cutting it.
They're also amazing to ease any body aches or pains. I'd recommend getting two, one for at home and one for work.
You can pick this one up from Holland & Barrett for €15.35.
Advertised
Are there any other products you swear by for keeping you warm?