 Rihanna may surprised everyone by appearing on stage during Calvin Harris' Coachella set this weekend, but she really got tongues wagging when she was spotted getting cosy in the crowd with Leonardo DiCaprio on Saturday night.
Rihanna and Leo were photographed together at Coachella's Neon Carnival after-hours party on the second day of the festival, with both doing their best to be incognito by wearing sunglasses at night (although Rihanna's were silver and sparkly and not exactly 'subtle', but then nothing at Coachella really is) and Leo also donning a baseball cap and handkerchief for extra inconspicuousness.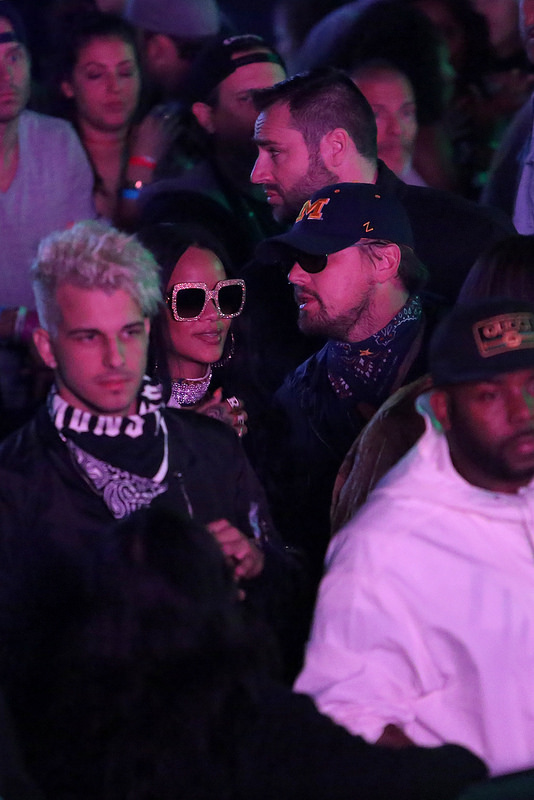 And just in case you think they were slumming it and people could get near them, we 99% certain that's a security guard looking mean behind them, so they weren't exactly accessible.
While the pair were papped with Leo talking in Rihanna's ear, E! are keen to stress that "The two have never commented on the status of their relationship" and that the pair "also spent time apart".
What's possibly our favourite part of this story though is Leo's apparent love of TLC's 'No Scrubs'. As E! tell it:
Advertised
"The actor arrived around 1 a.m. through a back entrance. He sipped Don Julio tequila cocktails at a table, hung out with several people, including women, and danced and sang along to TLC's "No Scrubs," E! News has learned.
Rihanna arrived later, also through a back entrance, and was seated next to DiCaprio's table. She was seen dancing with two girlfriends. He later made his way over to her to say hello. During the night, DJ Politik played Rihanna's hit "Work" and the crowd went wild."
It is a banger to be fair.
And don't forget to check out all the pics and hottest styles from Coachella in our gallery section.
Via E!