 Inspired by Kim and Kanye's double cleav debacle at last week's Lanvin show at PFW (it wasn't just the double breast on show, or the fact they were 40 minutes late that had the crowd booing - they also appeared to be in matching skirts) we decided to cast an eye over the celebrities who go to great pains to complement each other's ensemble. 

Sometimes complementary ensembles can actually work, other times it's more Tweedledum meets umTweedlecertainlynot.
Many seem to be under the illusion the matchy matchy phenomenon which Kimye seem keen to kontinue started in 2001 with Britney and Justin's ode to the Texan Tux, but  really it started a few years prior...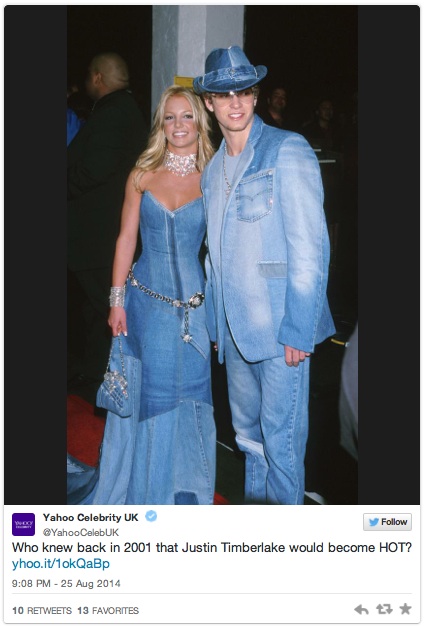 Cast your minds back to 1999, when Versace was seemingly all the rage in the Beckham household. Apologies for bringing this back to the brain, and we're sure there's no one more sorry than Victoria, and her newly opened flagship store.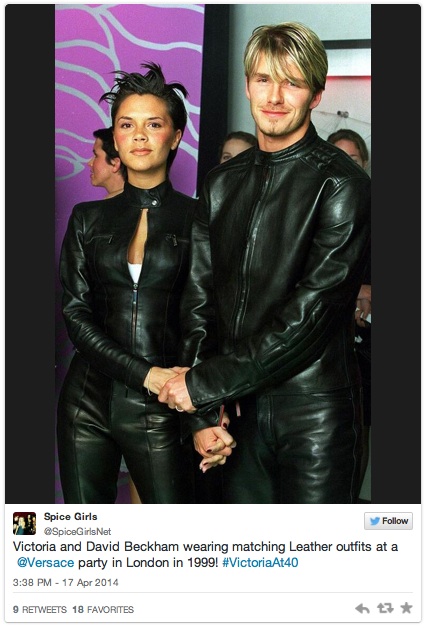 Seemingly Bertney and Timberlake couldn't stretch to matching Versace leather suits, but at least they'll always have the fact they're responsible for Katy Perry and Riff Raff's constantly referenced MTV VMA outfits.
For those who presumed Britney was behind herself and Justin's outfit choice at the 2001 American Music Awards, it would seem Mr. Timerberlake is partial to a bit of collaborative clothing. Here he is with wife Jessica Biel at the premiere of 'Runner Runner 'last year. Indeed I too keep forgetting that they are married.
Seemingly another fan of matching materials is Brad Pitt. Lookit him there, busting out the mirror image hair cuts (now that's commitment) with Gwyneth Paltrow back in 1996... all very 'Sliding Doors'.
He did mange to redeem himself somewhat looking super suave with Angelina at this year's BAFTAs (you can check out more of Brangelina's outfit co-ordination attempts here).
The kudos is warranted considering not all matching tux efforts turn out quite so well. Behold Pharrell and his missus at this year's BRITS.
Finally, there are couples who effortlessly compliment each other on a more day-to-day basis. For example, here's Sam Worthington and his lady friend Lara Bingle just taking a stroll (before some sniper practice?)...
... while Jason Statham and Rosie Huntington-Whiteley echo each other's get ups in subtle tanned tones...
And then there's Hayden Panettiere and Wladimir Klitschko at Tribeca's 'Hoodwinked Too' premiere in 2011.
It's like she removed one of his elbow patches and swaddled herself in it...
Still small mercies, eh?
Advertised