 After a build-up that seemed like it went on for years, it's finally happened. Kim Kardashian and Kanye West got married over the weekend, in a flurry of palace-hopping, designer gowns, cleavage and about four million duckface Instagram snapshots.
I realise that there's a certain amount of love-them-or-hate-them when it comes to Kim and Kanye, but it's almost impossible to escape them. So think of this post as the ripping off a plaster of celebrity news. We're going to power through the events of the weekend, for those who are interested and those who didn't think they cared and yet can't help clicking through, just to shake their heads and say mother-ah-god or just check out her gúna.
Kim and her army of girlfriends descended on Paris for a hen party that took place inside the Eiffel Tower, a move that's almost hilariously cliché but also kinda perfect, given that subtlety isn't exactly a Kardashian trait.
The wedding party then arrived for the rehearsal dinner at the palace of Versailles, which was presumably free of teenagers posing for group photos on their school tour. Apparently rehearsal dinners are not just something that happens as a handy plot device in films and sitcoms, as I had previously presumed. There were fireworks, horses and carriages and a performance from Lana Del Ray. Just for the dry run.
Advertised
The actual wedding then took place in a 16th century fortress in Florence in front of family and friends. Kim, Kanye and North all wore Givenchy, Andrea Bocelli performed at the ceremony and John Legend sang his soppy hit All Of Me at the reception. Apparently he introducing the song by saying;
I believe in you two and I also believe in this song, and it's number one now!
Which, to be perfectly honest, I find much tackier than anything Kim has ever done. There's a time and a place for plugging your boring song, John. Gawd.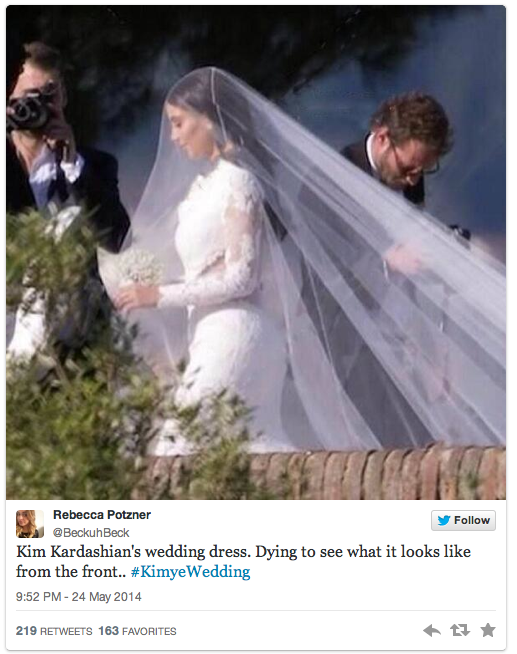 Pictures of her reserved-for a-Kardashian gúna started surfacing on Twitter, along with details on Kanye's rants/speeches about how they were going to take over the world. The wedding playlist reportedly included early 90s filth classic I Wanna Sex You Up by Colour Me Badd and the staple of many an Irish wedding, Brown Eyed Girl by Van Morrison. We have yet to hear if there was any Rock The Boat action on the dancefloor.
All in all, it was as extravagant an affair as we could have expected from Kim and Kanye. I think one of the best weddings I was at was one in the Four Seasons, which entailed a steak dinner, an open bar for the whole evening and a drunk girl who was convinced I looked like Daisy Lowe. I really don't. But it was a very fun night.
And there are rumours that they are honeymooning in our very own Cork. Now, has anyone seen them picking up some crubeens in the English Market?
Advertised
What do you make of the Kim and Kanye wedding weekend? Are dying to know every little detail or do you have have your hands over your ears shouting 'no more, NO MORE'. And tell us, what was the most fun you've had at a wedding?
To the comments!