 Between all the overstuffed, messy rails full of last season's crap and other punter's sharp elbows, I was never much of a fan of sales shopping. And then the stores got their acts together, put their wares online, and BOOM: I could pick through their stock for deadly discounts at my leisure.
Here's a quartet of summery coral-y seasonal reductions that have caused my debit card hand to twitch.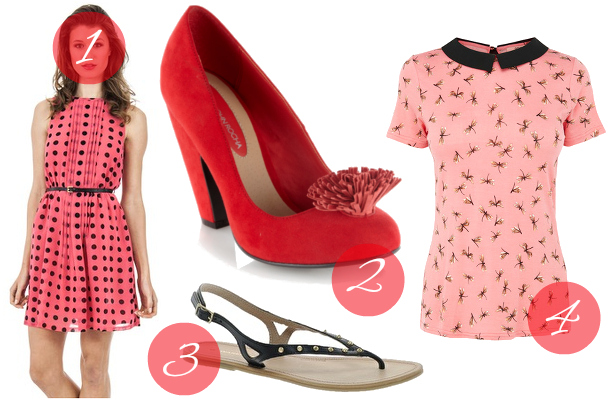 ONE // There's always great value to be had from A|wear at sales time, and it's the reductions on their day dresses that I find most bargainous. Some of the frocks are down to fifteen quid and many will work as well with opaques and boots as with sandals on your holliers or dressed up with heels for a shindig.
€20, A|wear
TWO // Originally €63, the 70% discount slapped onto these shoes from John Rocha at Debenhams brings them down to less than twenty smackers. At the time of posting, they were available in sizes 3-7 in red and 3-8 in the black colourway, but I suspect that won't be the case for long so get over there now if you fancy a pair.
€18.90, Debenhams
Advertised
THREE // Some people are, like, so over studs, but when they're done subtly like this I'm still definitely a fan. These are the same shape as my very favourite super comfy flip flops that actually made my feet look half decent until the dog took a shine to them (read: chewed them to shite) so I'm very tempted.
€14.50, Warehouse via ASOS
FOUR // The Oasis sale is another good 'un, I find. It's packed with floaty summer bits that would be ideal for holidays, fine knits, accessories, and this super cute dragonfly print top with its '50s feel.
€16.80, Oasis
Have you snaffled any amazing bargains in this year's sales yet?