 Do you remember summer? Ah yes, that glorious two weeks when we basked outdoors every day, wore very little clothing, and were generally in a fantastic mood. Now, while it's still mild and fairly pleasant out, it's definitely time to start thinking about cover-ups. Yes, I'm sorry to pull you away from what ever fantasies you might still retain of summer reappearing, but face it: in a couple of weeks, it will be September. I'm sorry, but it's true.
Undoubtedly most of you already have impressive collections of jackets and cardigans, being Irish and accustomed to the changeable weather. But a few more couldn't hurt, right?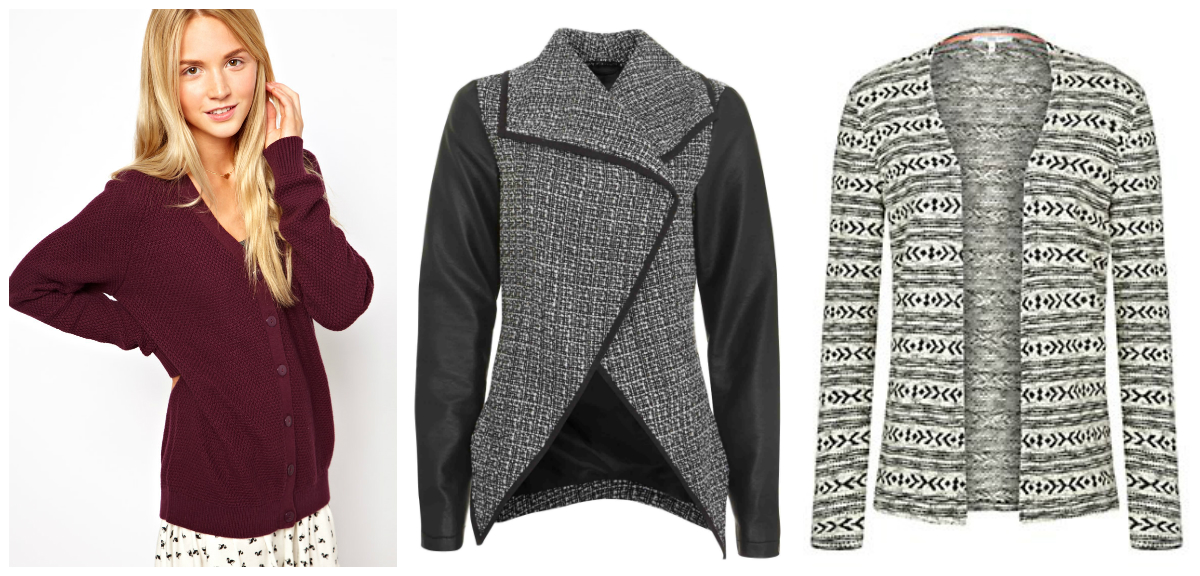 For me, cardigans just have to be big, slouchy, and like something your grandad would wear. This cardigan from ASOS (€37.11) is comfy without looking too slobby, which is essential.
The next item, €62 from Littlewoods, is something I've actually snapped up myself - not fully a jacket, not fully a cardigan, but a coatigan (that's what they call them, really). I unfortunately can't find a picture of it being worn open, but it has a really nice asymmetric, waterfall front, which from my eagle-eyed perusal of online shopping websites is big news for autumn.
Finally this aztec-patterned cardigan, €29.99 from New Look, is another cute option that looks much nicer in real life than it does in pictures. It's light yet warm, and the print isn't too loud, so you can have fun with whatever you choose to wear under it.
Advertised

Now to jackets. First, we have to pay tribute to the leather jacket. Is there anything it can't do? OK, there are a few things, but there aren't many outfits a leather jacket would look totally out of place worn over. But here's something a bit different - the traditional biker jacket shape but in wool, from Zara (€69.95). I'm kind of in love with this. SO ladylike.
This red/pink (it could be either) coat is just perfect for autumn - not too bulky, still warm, absolutely stylish. It's in Penney's A/W '13 collection which is dropping very soon so I have no price yet, but it's Penney's so it can't be more than €30. Drooling.
And now on to my final choice - this khaki jacket also from Zara, again €69.95. Army jackets became a little ubiquitous last year but to be honest, I still love them. However I may update my super slubby vintage army surplus one for something more sophisticated like this.
I think with all these cute picks I'm starting to get a bit excited for jacket weather...are you?