 If you don't want to dress up but you don't want to be that person who doesn't, here are some of the easiest Halloween costume ideas.
When it comes to Halloween, the world can't be divided into two. It's not a 'love it or hate it' thing (well, it is but if you hate it, you probably wouldn't be reading this). It's more like a 'wear a Halloween costume', 'make an effort with your costume', or 'wear black and call yourself a shadow' situation.
When I was younger young, I loved Halloween. I would think about my Halloween costume for months and I never wore the same one twice. Now that I'm in my thirties and no one is having Halloween parties any more unless kids are involved, I don't get dressed up. I'd rather make an effort with a wedding guest outfit than go all out on October 31st. A black shadow outfit is fine with me. Unless, and there's a big unless, unless I've been roped into organised fun.
The only thing worse than someone who hates Halloween for reasons other than they were badly traumatised in their youth, is someone who refuses to wear a Halloween costume. Listen, friend, you're cooler if you do dress up, not if you don't. If you don't, you're just ruining it.
On the other hand, if you're not that into it, there's always going to be a couple of people who can't help themselves from going all out, so if there's a competition, you're never going to win it. You want to get in the spirit of things, though, but without trying too hard (or at all) and without losing money better spent on the cocktails you'll have in town when the office party is over. I have a few suggestions that will give you the illusion of having made an effort and you don't have to look like a total eejit, either. (But they're not sexy. I draw the limit at sexy).
You as Uma Thurman as Mia Wallace in Pulp Fiction
Yes, it's been done ten thousand times before. But that's understandable when it's so easy. Unless you have a black bob, you will need some sort of wig, but who doesn't want a Mia Wallace wig? I know I do.
A...skeleton, I guess?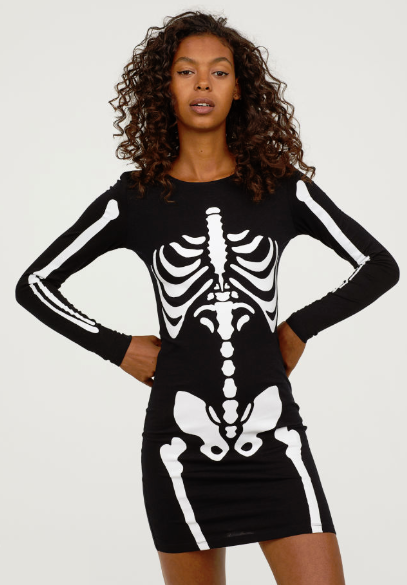 Advertised
According to H&M, this is just a simple 'fitted jersey dress' although the skeleton print says otherwise. I'm getting this for our work party and wearing it with one of those really freaky skeleton face balaclavas they can in the men's section in Penneys.
Dancing Girls Emoji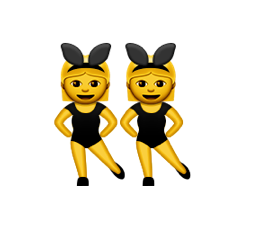 Grab your bestie! If she or he's as lazy as you are, you're going as a couple. Just wear black shorts and a black t-shirt and stick on some cardboard ears attached to a hair band. Strength in numbers.
Something Harry Potter-y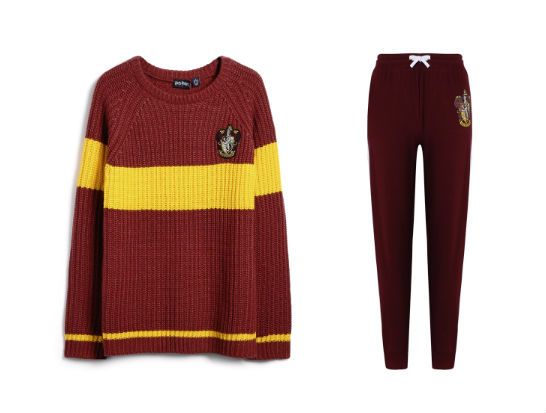 Penneys Harry Potter Knit Jumper €18 / Harry Potter Burgundy Jogger €14
Bingo! You're the captain of the Hogwarts Quidditch team. Penneys is obsessed with Harry Potter, so you'll definitely find something in there that you can fashion into something resembling a costume.
A Ghost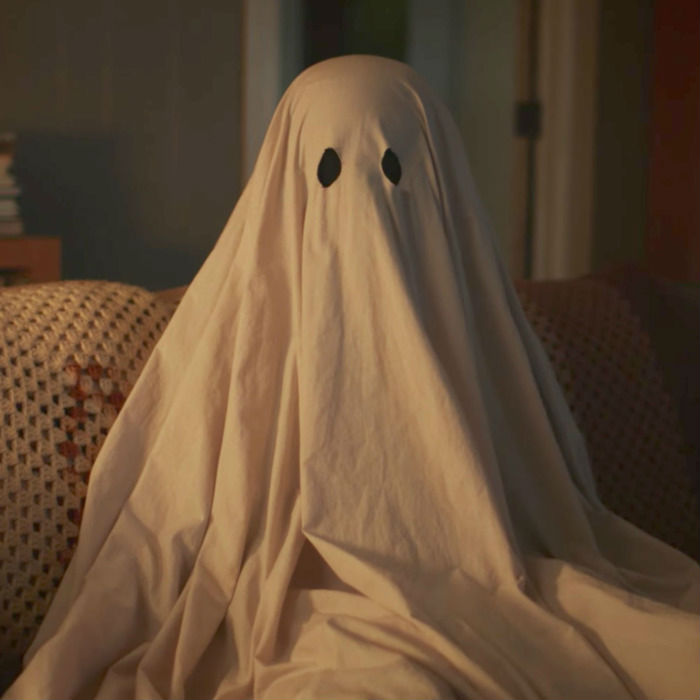 It's a costume as old as Halloween itself, but no one actually does it. It's just a white sheet with holes for the eyes cut out. How easy can you get?
Advertised
Are you a Halloween person? Do you find joy in putting a costume together? Or would you rather put a sheet over your head?