 Before we get this here show on the road, let me just say that I do realise how completely bonkers it might seem to be talking about covering up from anything but the sun when the weather is like this.
The thing is, while I've had my arms out, my legs on display - sans opaque tights! - and my favourite flip-flops on for three days in a row now, there's still a bit of a chill about first thing in the mornings and in the evenings that has me reaching for another layer.
Usually I sling on my ancient black M&S blazer and think no more about it, but since it's pretty much completely worn out at this stage I'm casting around for a replacement.
Any of these versatile lovelies would fit the bill quite nicely (although one of them would require a very serious wad of bills to pay for it. But, y'know, it's pretty, and there's no harm in looking. And sure maybe I'll win the Lotto this weekend.)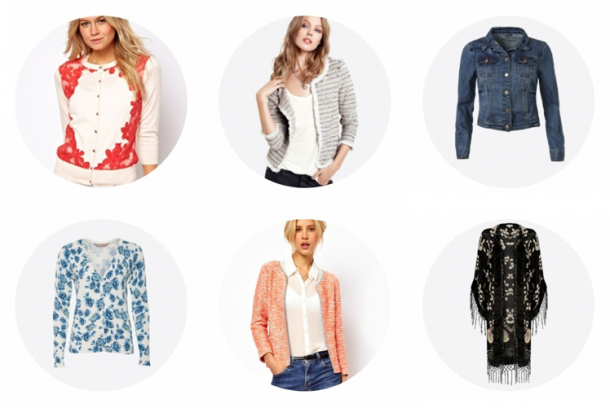 Advertised
Ted Baker Ettia lace detail cardigan, €131.22 (! And it's hand wash only) via ASOS // H&M knitted jacket, €34.99 // Penneys denim jacket, €19
A|wear blue floral print cardi, €20 // ASOS fluoro boucle jacket, €46.39 // River Island fringed kimono, €55
Anything there float your boat? What's your go-to summer time cover-up?