 If there's one trend for Spring Summer 2015 that will have a marmite effect, it's stripes. The designers love it, but I'm not so sure. But having carried out extensive market research (ahem) I have determined that there is a compromise.
Let's address some myths and truths first. Firstly, the common belief that vertical stripes can make you look longer is false. Secondly, if you have a long torso, you avoid any pattern that is vertical. Horizontal stripes can add inches rather than taking them away, and lastly beware the diagonal for fear of it making your body look like one side is bigger than the other.
See, stripes are not our really our friend. But we can make peace, and the trick is to do with how the stripe appears on the item and what part of your body is sits. Bear with me...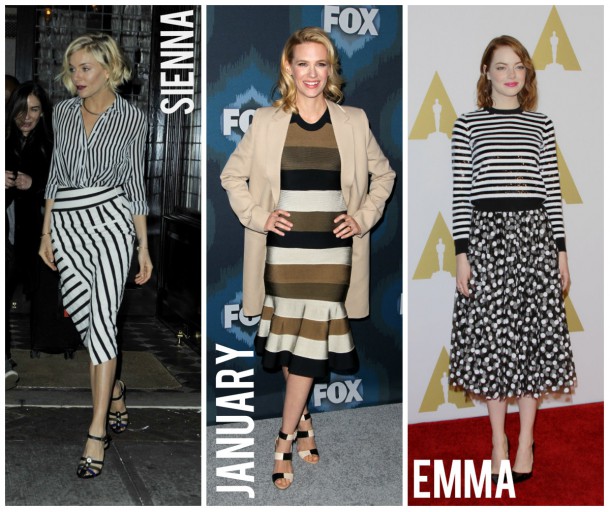 Celeb land has some very good examples recently. Sienna is the current favourite with her stripe-combo look. The skirt works as the stripes run in more than one direction keeping the lower half of her body nice and shapely.
We heart Emma Stone and her stripe top contrasted with a printed skirt. The a-line style of the skirt is key here as it softens the sometimes harsh look of a statement pattern.
Advertised
January Jones takes a risk with a full on stripe dress which really only suits an hourglass figure that has balanced body proportions. I can't imagine this dress on my pear shape hips.
But can we get our hands on stripes that will work for we commonfolk? Yes. We. Can.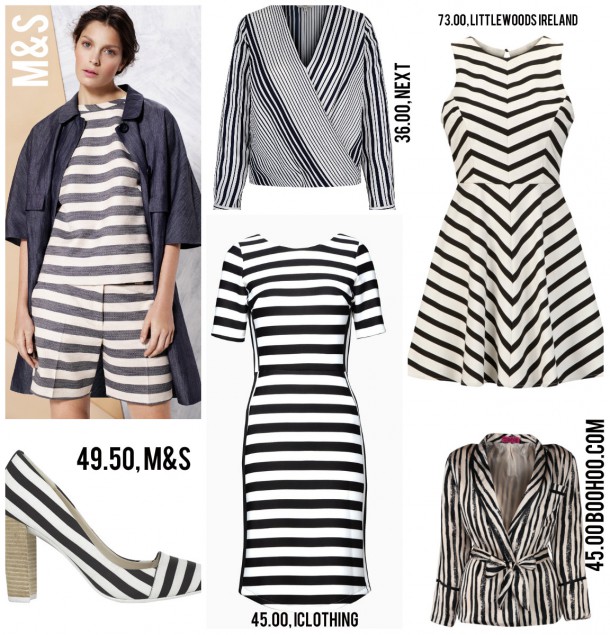 If you want to go all out, opt for a dress and watch for how the stripe is aligned. A different stripe on a panel or a different direction on either the top or the bottom half makes it more flattering. Most of the high street styles are a mid length too, and will work rather stylishly with a shoe in a plain, but bright colour.
Shoes and accessories can add a stripe to an outfit, just make sure that it doesn't clash with any other print you might be wearing. Again, the block colour is a good match. I love the stripe shoe from M&S at the moment which will look very urban with a boyfriend style ripped jean.
Advertised
Alternatively, swap your plain black blazer for a monochrome stripe for an evening look. The satin style from boohoo.com this season will pair nicely with a black tapered trouser and some stillettos.
So beauties, do you think you can rock the stripe this season? Or is it a no go area?