 Yep it's all about Mummies this Sunday. I'm being a great daughter and leaving the country. I have to go to London for work. Mother is unhappy but she knows I need to work. I just had to tell her this. She'll come around.
Now, don't get me wrong. I will give her presents and lots of love for being the best mum ever. And my presents are always fashion themed. She handed me down her love for fashion so it's all in line. If you fancy giving your mum a fashion themed gift, then I have a few suggestions for you! And they aren't all "wrappable" presents too! 
The Kildare Village Experience
Who loves a bargain? Yes, I knew the answer to that. Well Kildare Village is certainly a place to go to find those. Take the day with Mum to wander around the shops and have a spot of lunch at L'Officina followed by trying on shoes and testing handbags. And then have a coffee. It sounds lovely doesn't it?
There's up to a 60% saving to be made on brands too. I love Anya Hindmarch who have some beautiful bags (one of which is reduced to €179 from €275!) You can get all the details at kildarevillage.com
A little piece of Parfois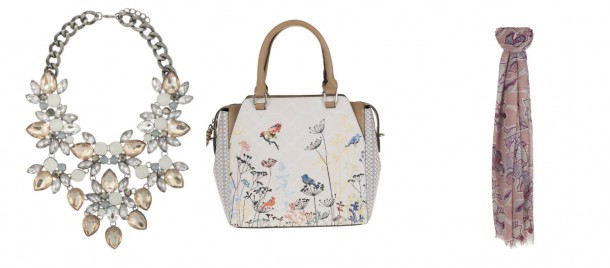 Ah accessories always make for a better outfit, and Parfois have some amazing trinkets to give to Mum. From necklaces to sunglasses and scarves, you could make up a little hamper getting the best of Spring Summer trends at a very good price too.
Take three pieces, a statement necklace, a matching bag and scarf and your mum will have everything she needs for the perfect accessory wardrobe. All the above pieces are available at Parfois stores now! 
Advertised
My mum loves nice pyjamas and at least once a year, I give her something more luxurious for a birthday or Christmas. For Mother's Day though, M&S have some beautiful lounge wear for mummy to relax in.
From a cashmere kimono cardigan, to cotton loungewear pieces, these are a really personal gift I think. If you want to give her something to wear outdoors, try a nice blanket wrap which adds a nice extra layer to an outfit. 
You can always marry the worlds of beauty and fashion for Mother's Day too. Lot's of the beauty counters have plenty to offer this, but my pick is from Elizabeth Arden who are currently giving away the most amazing tote bag from Preen (one of the most sought after design duos in London) when you buy two products.
Now if you don't know to what to choose, then take a look at Sunkissed Pearls Lipgloss trio as one of your products, it's fabulous! 
I love a good book and there are some amazing fashion books out at the moment, from the coffee table variety to the curl up with a cup of tea kind.
If your mum likes fashion as a subject, then I suggest giving her a piece of literature. One of my favourite fashion books is Grace Coddington's autobiography documenting her life working alongside Anna Wintour at American Vogue. It's a fascinating read, and not just for the fashion lover. It's an amazing insight into working in something you are passionate about. Grace is an icon, and she shares some of the most wonderful stories. Grace: A Memoir by Grace Coddington is available at Easons and other independent book shops nationwide. 
Advertised
So tell us, what are your gift ideas for your mummy? Come on, give us some of your inspiration!