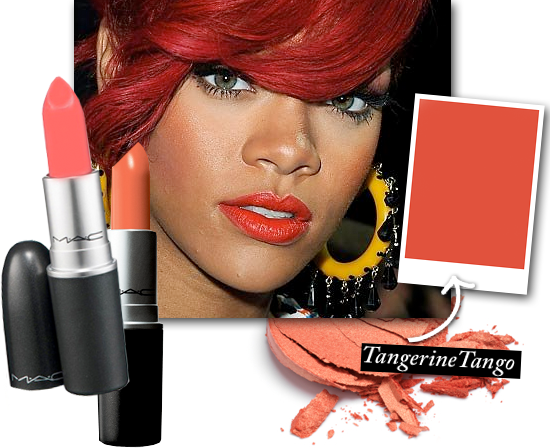 Did you know that each year the Pantone institute decrees a colour of the year? As industry colour experts, they're well placed to know what's hot to trot and last year's hue of choice was honeysuckle, 2010's was turquoise, 2009 was the 12 months for mimosa, but the shade for 2012 is tangerine tango.
So, erm, what does that actually mean?  Basically, the peeps at Pantone have a gander about the fashion, beauty and home worlds, assess future trends and see what shades are zipping up the radar. Turns out that tangerine tango - "an orange with a lot of depth to it" - has popped up on the catwalks of Tommy Hilfiger, Nanette Lepore, Cynthia Steffe by Shaun Kearney, Elie Tahari and Adrienne Vittadini. We can expect to see that trickle down to the high street so expect the shade to be a strong contender in a H&M and Zara near you fairly shortly.
If you've been watching beauty with any regularity over the past few years, you'll know orange has been having a bit of a renaissance anyway, a lot of which is thanks to the move back to old-skool lipstick based glam and the massive surge in interest in nails.  Lipsticks like Mac's Vegas Volt and Morange give instant access to Pantone's tangerine tango trend and there are more deep orange-reds in nail polish than you can shade a stick at down your local Boots, for very decent prices. Dior's summer Electric Tropics launch pipped Pantone at the post and if you can still track it down, it's ideal for a little instant orange crush.
Advertised
And it seems Pantone are wise to the beauty potential: wwd.com reports that a colour cosmetics collaboration between the institute and Sephora is in the offing, to launch in March. So hey - if you're mad about orange and you'll be state-side for La Feile Padraig, you can hook yourself up. Prices will start at $18 and go up to $80 and the collection will feature "tangerine- and orange-shaded cosmetics and beauty accessories."
So tell us in a comment - what do you think about all this for 2012? Trends based nonsense for high-fashion mags only or something real actual women can work with too?