 It makes so much sense. I suppose it's the modern equivalent of a bumbag, but sure, all the cool kids are wearing them. Let's take it up a notch and rock the phone crossbody.
You could describe Lauren Conrad as America's Pippa O'Connor. People trust her taste in clothes and makeup and accessories because, in fairness, she consistently looks good. She has that extra Girl Next Door thing going on, like Pips. She's polished but not in a scary way, and her outfit choices are accessible. She's safely stylish, and that's no bad thing. By following people like Lauren and Pippa's lead, our nations can be nicer-dressed places.
It was on Lauren's eponymous website that I discovered the phone crossbody. She mentions it as one of her top trends of 2019 to follow, and I have to agree. It just makes sense. In a world where our whole lives revolve around that hand-held devise, what more do you need on a night out? Your bank card already lives on your phone case - or if you're really modern, you use your actual phone to tap anyway. Put your lippy in your pocket and begin to live your life free of handbag clutter.
Kate Spade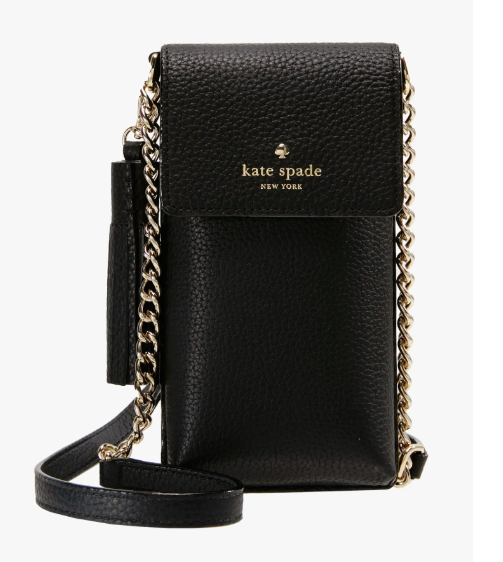 Advertised
It's worth investing in a good one that looks premium like the Kate Spade model above, simply because you'll be using it all the time, so it's worth the investment. Besides, there aren't that many on the high street right now (watch this space) so you don't have much of a choice. For now, the idea is that it's a fancy holder for your phone, but we predict that future versions will include pockets for lipstick and other such necessities.
Think about it, too; for the price, it's so much cheaper than your average handbag.
It's definitely the modern equivalent of the bumbag. Will you be buying one?