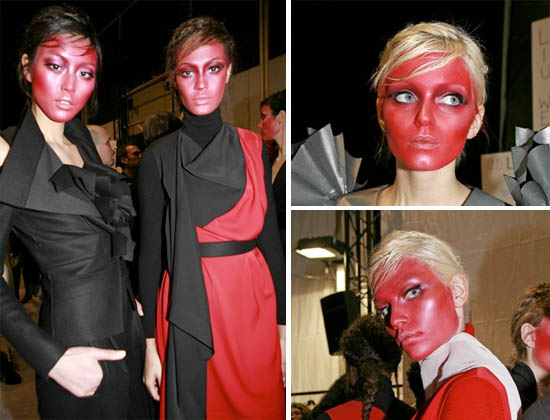 Paris Fashion Week is on at the moment and designers are showcasing trends we'll all be (possibly) following come the autumn. And because it's Paris, there's lots of glamour - not to mention theatre and OTT goings on.
Bonkers Dutch couturiers Viktor & Rolf are responsible for the excerable Flowerbomb and now they've dropped another incendiary with the beauty looks at their recent show. I love this kind of bananas carry on, me. More bonkers, please! Turn the nutso up to 11!
Pat McGrath was in charge of the makeup and hair stylist Luigi Mureno coined the term "modern medieval" to describe the textured look he'd achieved. If you too want to look like you have a stringy, unwashed barnet then here's a tip: WWD reports that he "used products such as John Frieda Luxurious Volume mousse to achieve it." Lovely.
So what think you fair Beaut.ies, of the beauty on display at Viktor & Rolf: is it less beautiful and more beelzebub?  Whatever you decide, I guess the devil's in the details, eh?
Advertised
Pix via WWD.com