 The skirt every influencer is wearing this spring has a secret - it comes in loads of colours and prints and will suit us all!
Of course, you'll recall the leopard print skirt that was everywhere just before Christmas. You loved it, we loved it; everyone loved it. That's why we can't recommend it. When everybody has it, you run the risk of wearing it when, eh, everyone else is, and nobody wants to be in that situation. Except maybe the Kardashians when they match themselves to their kids (weird).
See the H&M leather skirt that will be your workwear hero for spring.
In case you're not au fait with the skirt, here's a pic to remind you.
God, it really is so very nice. And it really did work in so many situations from a casual shop around town to a fancy dinner. I actually did buy one and thought I'd wear it to all of those situations. But it was just getting too popular. I didn't want to look that trendy.
If you love it, but can't buy the leopard print on accounts of its over-popularity, I have some good news. The new skirt of the season is actually very similar. It's mid-length, bias-cut and silky. The difference is the colour. And the print. So many shops cottoned on to the fact that the style is so versatile so they left their leopard comfort zone and produced versions to satisfy all tastes. Hurray!
Advertised
Leading the charge is Topshop who have so many interpretations of the look you can pretty much be sure that you'll be the only one wearing your particular one. I'm drawn to this gold.
Topshop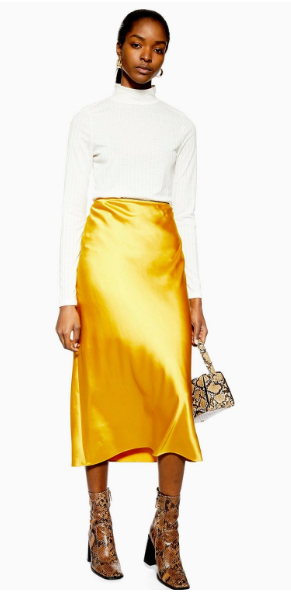 And isn't this a nice way to style a ruby coloured skirt for spring?
We're into it. Are you?
Advertised