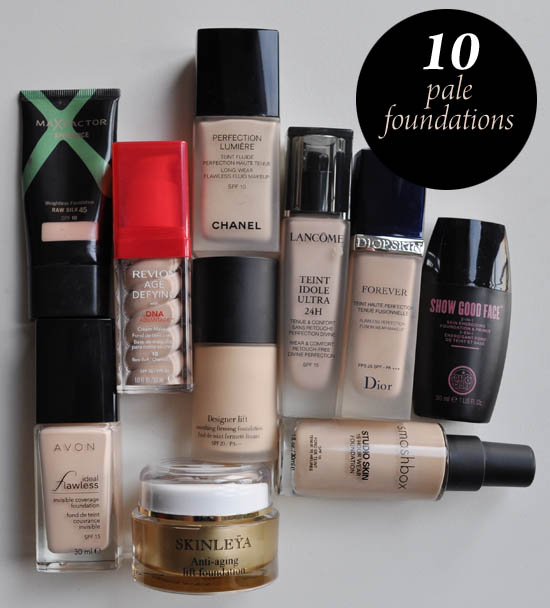 About 18 months ago we had a big roundup of foundations that cater to the fair tones sported by many of us lucky enough to still be clinging to this sun-starved, windy, stoney broke rock.
Yay! Lucky us, eh?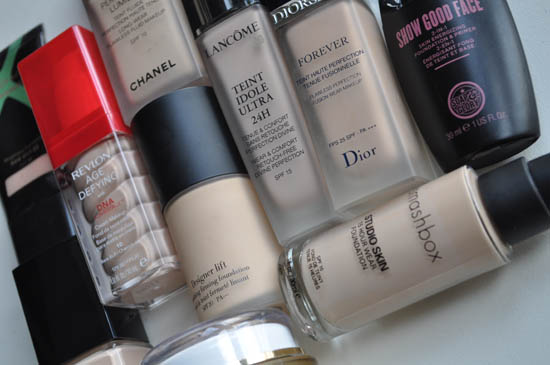 Time, as is its wont, has moved on, and with it has come a whole slew of new base. Lots of it isn't a match for our often see-through ways but brands are catering more and more towards the porcelain-complexioned, so there's now much more choice out there - across price points too.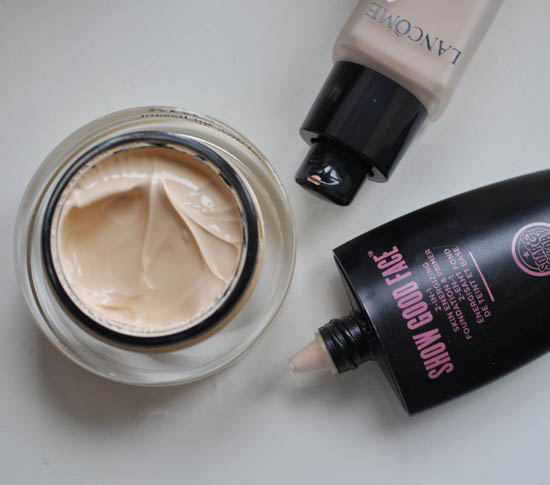 Foundations from Sisley, Lancome and Soap & Glory
Here are 10 I've tried over the past year or so and found to be a good match for a pale Irish or Celtic skintone.  Obviously I know lots of Irish people have darker skintones or completely different ethnicities; this post is just designed to address the pale bugbear we get so many emails about.
Advertised
With regards to base tone, some are a little yellower (Giorgio Armani, Sisley and Chanel) and some are pinker/neutral (Avon, Revlon and Max Factor) - if you're puzzled about how to work out your base tone, check out this really helpful post from Aisling on that very subject.
But all are worth a look for a pale girl who's looking for a new foundation. Here's what's what: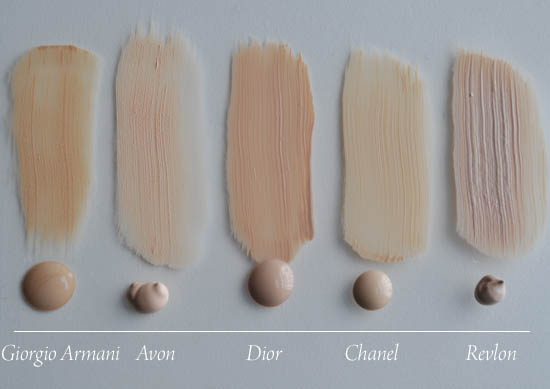 Giorgio Armani Designer Lift Smoothing Firming Foundation in shade 4, €49.50. This is the brand's latest anti-ageing foundation and moves away from heavy coverage to a lighter veil. It's really nice - gives a little more than sheer result that blurs past lines and doesn't settle in them, but covers the bits you need covered. There are nine shades in total
Avon Ideal Flawless SPF15, €15.50 in Light Pink. This will hit the catalogue in February and is one of 16 shades of a new longwear base that dovetails into the new trend for foundation that lasts, suits all skintypes and wears with comfort. Compared to others that are launching around the same time from Lancome and Chanel, this isn't as good on dry skin but the shade range is wide so lots to suit all.  It's just better for a normal-to-combination skin upwards than a dryer one
Diorskin Forever, €44, in shade 020 is one I've been using on and off for a while.  This has quite high coverage, a nice soft, semi-matte finish and I like it for night. Combo-to-oily girls who like coverage will find it great for all occasions but for a dry skin it's not a 24/7, seven days a week base
Chanel Perfection Lumiere in 10 Beige, €44, is one we've already written about and comes in 16 shades, the brand's biggest ever offering. I really like this one - check the review out here
Revlon's Age Defying with DNA advantage, €19.99, is another we've reviewed. 10 Bare Buff is my shade and it's one of eight on offer. This is a really good pale colour, the coverage is dewy and cushiony, great for a dry and more mature skintype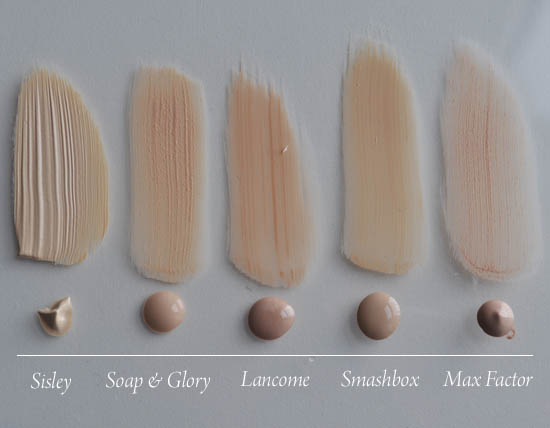 Sisley's Skinleya Anti-ageing Lift Foundation, €130, in shade 00 Light Linen. This is yellow toned and there is a very pale pink toned shade available too, 01 Light Opal, which would be a better bet for cool-toned ladies. The big sell with this product is that it is skincare and base rolled into one, hence the price. You also get a genuinely excellent foundation brush with it, which is probably worth a good few quid all on its own. Coverage is very sheer; this is a very delicate product
One of the new products from Soap & Glory's new makeup range, Show Good Face 2-in-1 Skin Energizing Foundation and Primer, €15, comes in six shades. I have The Fairest of Them All here. Does it prime and energize? Hmm - not sure, my skin seems to drink this stuff and I'd say it's a fairly unremarkable base all told - but more trialling needed before I dismiss it entirely!
New this month at Brown Thomas stores (with wider distribution from February) from Lancome is Teint Idole Ultra 24, €35, which comes in 18 shades with lots on offer for us pale-ies.  I've got 010 Beige Porcelaine. This is very comparable to the new Chanel foundation, above, except with a more purse-friendly price point, a tad more coverage and possibly a little less kindness to a drier skintype. I like it - not for every day but it's a very 'perfecting' looking base for night, for example
Smashbox launched a whole new foundation line, Studio Skin, €39, late last year. Even though this is oil free, meaning it'll be a good pick for combo types, I found this was ok on dry skin too because it's got hydrating properties. It gives a satin finish which is flattering and there are some nice pale shades like this one, shade 1.1
I love this a lot: it's Max Factor Xperience Foundation, €19.99, has at least two very pale colours on offer, including one lighter than this one, which is Raw Silk. Read lots more about the base on this post
THREE MORE TO TRY
Advertised
That's not all the recent launches for milkbottle types. Also check out:
Bobbi Brown Extra Repair Foundation SPF25 has a porcelain shade that will suit fair skintones
Get Beaut.ie Delivered
Stay updated with Beaut.ie newsletters full of the latest happenings at Beaut.ie as well as great offers and things we think you might find interesting .