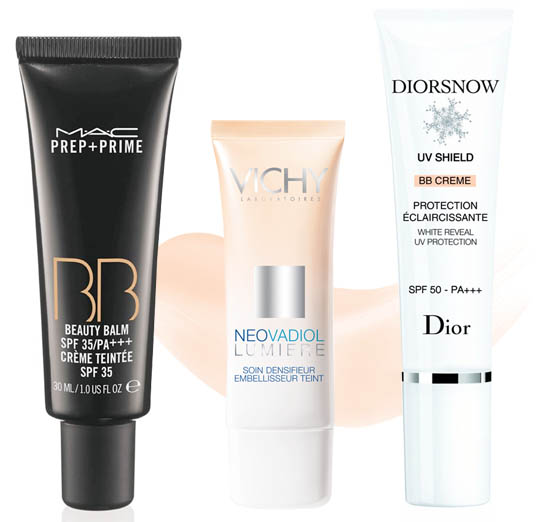 The one ace base product I'm reaching for all the time recently is BB Cream. I'm mad for 'em and browsing constantly for the gen on new ones to try. Here are three that have caught my news-nose of late.
1. Mac Prep + Prime BB Beauty Balm SPF 35
This is causing a lot of excitement in the blogosphere and of course a lot of that is because it's from Mac. One shade is all that's available which is a bit of a downer if you're not a good match, but if you're pale you're quids in - this is light in tone. I haven't had a chance to really trial the one I've bought yet, so will report when I have, but the high SPF and reasonable price - mine was £17.85/€22.13 - make it an affordable buy. Because it's included in Mac's primer category, this is intended mainly as a first step product and one you'd apply foundation over. Me? I'll be using it solo.
I want it now! Sorry sunshine, the Mac BB is a travel retail product only at present. I tried to buy in Dublin T2 en route to the UK on Friday and was told they were out of stock. "But," the assistant said helpfully, "the Prep + Prime Fortified Skin Enhancers are the same." I wasn't too sold on that so declined, and as I was off to a Mac event, checked with the PR. No, she said, they're not really. They share similar ingredients but the Fortified Skin Enhancers have no SPF for example. En route home via Heathrow, I bagged myself a BB and asked the question again. "Absolutely not," replied the assistant firmly. There you go - if you want the pure Mac Prep + Prime BB Beauty Balm SPF 35 experience, you'll have to fly somewhere to get it.
2. Vichy Neovadiol Lumiere
Advertised
In Asia, Vichy has a BB called Aera Mineral BB Cream and in Europe the brand has just launched Neovadiol Lumiere. There's no BB on the label, but rest assured, it's the brand's take on blemish balms for this market.  While there are no firm plans to launch it into Ireland yet, I have to say I think it'd do well. This is specifically targeted for mature skins and boasts some claims we haven't see with others yet, like re-densifying, re-defining facial contours, nourishing, smoothing, unifying the complexion and enhancing radiance.
But I want it now! Your wish is our command, etc - buy online from Farmaline.co.uk for €23.85
3. Diorsnow BB Creme
UVA and UVB filters with 50+ protection, new generation colour-correcting pigments and "iron oxide and titanium dioxide pigments deliver lightweight coverage that visibly fades spots and imperfections, and creates the illusion of ideally smooth skin in an instant" are the boasts of Diorsnow UV Shield BB Cream SPF50.
I want it now! Sure thing - this is a Selfridges exclusive in the UK where it will cost £36.50. It's not yet on the site but the store do mail order to Ireland; call 0044 113 369 8040 to find out more on that.