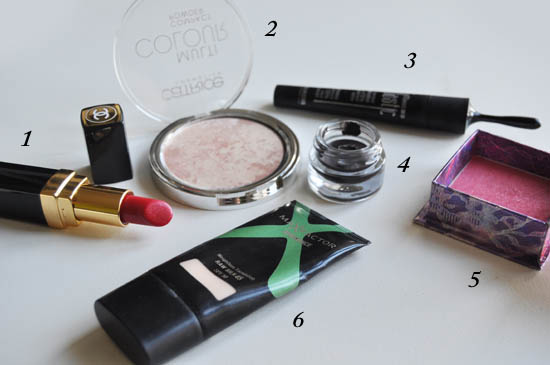 Here's what I'm currently using a lot for a really quick, basic face for work and weekend days. I often go completely makeup-free: I'm not at all bothered about being seen free of slap and the ten extra snoozy bed-minutes win out more often than not.  I'm also not really a morning person and I need whatever makeup I potentially apply in the AM to be really quick and super-efficient.
So here's what's currently in favour:
Chanel Aqualumiere Lipstick in Porto Rotondo. This is a semi-sheer, slightly glittery rosy pale red that's got some colour but doesn't scream RED RED RED! Nice for day, so
I picked this up last week thinking it may potentially be a dupe for a Mac Mineralized Skinfinish. It's Catrice Multicoloured Compact Powder and I got it in the chemist up the road from me. As I was browsing, an assistant came over, said "do you need any help?" to which I replied, "no, I'm grand, just browsing thanks." Then he farted and walked off, leaving me in a cloud of gaseous emissions which naturally enough helped to speed up my choice rather quickly. Anyway this isn't an MSF dupe but it's pretty nice, actually. Matte and lightly coloured, it could work well as a contour for a very pale person and as that's me, it's giving me a tiny hint of colour on the high points of the face, so I'm liking it
Bourjois Elastic Lashes is my current day mascara of choice. This is quite lengthening and non-clumpy, which pretty much ticks my on-the-down-low lash requirement boxes for a mascara for the office
This, now this I am SO impressed with. It's Essence Gel Liner in brown and oh me oh my, this is gorgeous on. A shimmering deep taupe, it's really flattering, easy to use and lasts all day. Love it - and so cheap!
Benefit Bella Bamba is one we've already visited on the blog. It's very pretty; a shimmery watermelon shade, I like its ways muchly. Check out this post for lots more swatches and a comparison to Coralista
And lastly, base. This is Max Factor Xperience Weightless foundation and it's an absolutely excellent product. Great shade choice and a beautiful consistency, this melts into skin and gives just enough coverage for day. On me it wears really well, looks a little dewy and doesn't ever cause flakes or tightness. Wondrous stuff - and I've praised it some more before, so have a goo
Advertised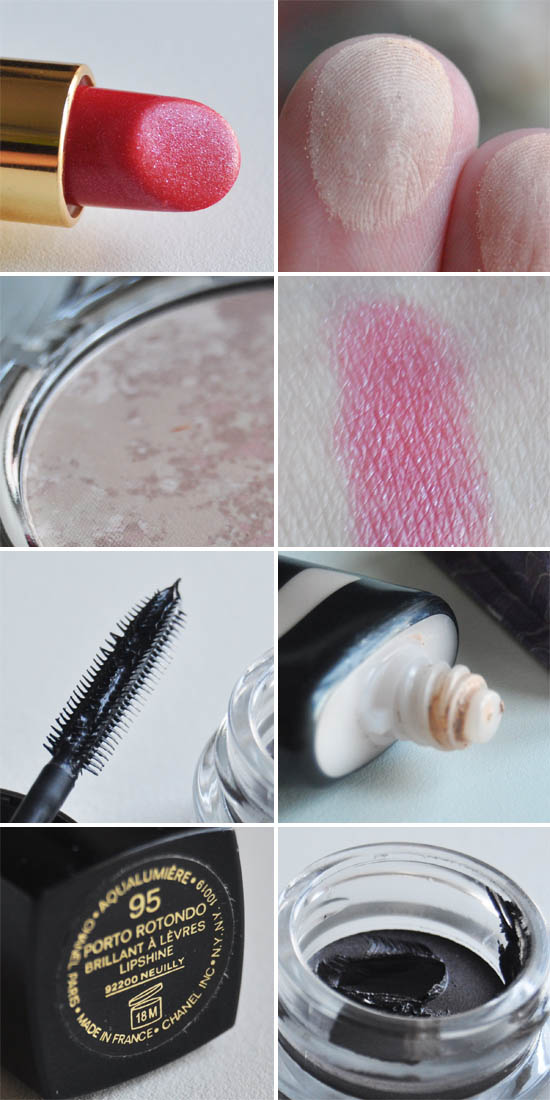 And sure just for the fun of it, here are a few close-ups and swatches of some of the bits mentioned above.
What about you? Got any current daily makeup staples you're using a lot right now?