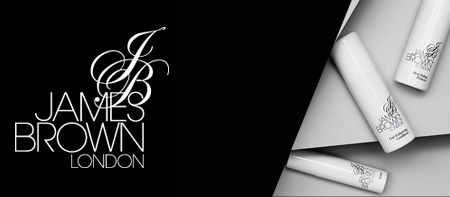 The pair of us have been giving James Brown's new haircare range a whirl recently. Available exclusively in larger Boots stores since the 8th of October, it's a really decent range at great prices - most products cost €8.95, with one or two being slightly more expensive.
I talked to Mr. Brown for the day job, and it was lovely to speak to someone who is so genuinely passionate about his product. He got down and dirty himself and spent a lot of time in labs testing and trying so that the final range would be as close to perfect as he could humanly get it. He also chose ingredients you don't often see in haircare, like white tea and moisturising ingredients more commonly found in skincare products.
Each tube has a special non drip cap and also comes complete with a quote from him about how to use it, which is a really sweet touch. This attention to detail has paid off - this is a great range of very personalised products, and we've both been impressed at how well they've performed, especially considering the price point. You'll be hearing more about the individual products soon.
Advertised
And the other reason we like James Brown so much? Sure he's one of us - both his mammy and daddy are Irish, and the man himself has a gaff in Galway, where he spends a lot of his time. Ace!