 This year, I'm taking a new approach to Christmas. Rather than allowing the urge to kick a hole in festive window displays swell up inside me or curling my lip in crossness when I see a Christmas gift guide or an ad on telly in early November, I've decided to just let it all wash over me.
Unless they start to play Christmas tunes on the radio before December 1st. I absolutely reserve the right to revert to my Scrooge mentality if that happens.
Anyway, I'm sort of hoping that resigning myself to Christmas a bit earlier will help me to be more organised than usual. It actually seems to be working: we've already booked our flights home (a job that's usually long fingered until a stressful, swear-filled couple of days beforehand.)
I'm also now allowing myself to get excited about the Christmas beauty releases, and while I always start off thinking "that'd be perfect for X!" my thoughts invariably turn to how nice it would be for moi.
The Christmas present handover is a time of mixed emotions in our house as a result.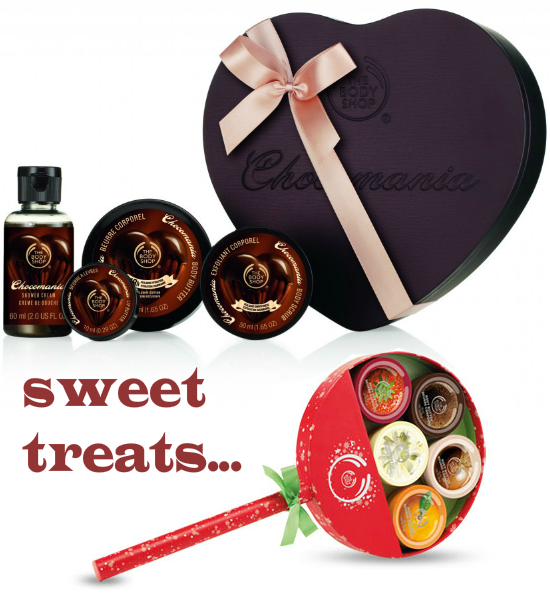 So while The Body Shop have bajillions of gift sets and stocking fillers to choose from, like the much-swooned-over Chocomania set (€25) or the quintet of mini body butters in an oversized Lollipop (€25.50) above, it's their individual releases that have really caught my beady little eye.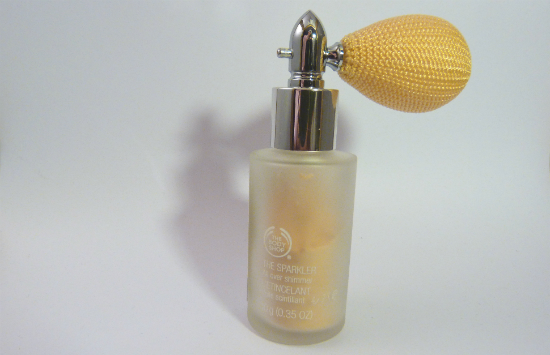 Advertised
The Sparkler, a loose shimmer powder for all-over use (€23.95), puts in its annual appearance in the brand's limited edition festive line-up. Use on face, body, or hair to add some shimmer to your ensemble. Both the gold and pink versions are presented in a minimalist glass atomiser with a coordinating puffer yoke (possibly not the correct technical term) making The Sparkler a lovely looking bit of kit.
If I had a dressing table, it would definitely take pride of place.
A tip for controlling application: rather than spritz it straight onto skin or hair, try spraying a little into the palm of your hand and then using a brush to dust it on instead.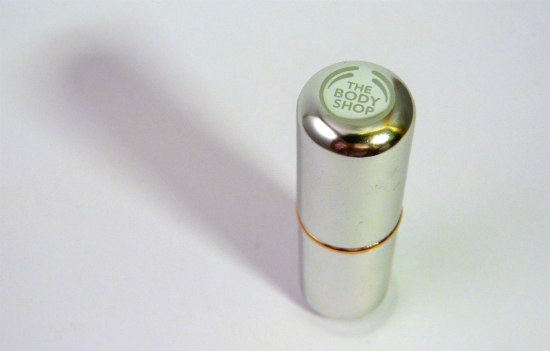 The other thing I'm loving is Ruby Sparkle Colourglide Shine Lipstick (€12.95), which I'm surprised about. Red lippie and I have a hate-hate relationship, so finding one that I like and that likes me back by actually being flattering on the lips is quite out of the ordinary.
Ruby Sparkle is Christmas in a tube, a warm wearable red that's with the weeniest gold shimmer particles imaginable running right through it – no disappointing overspray here! Enriched with beeswax and marula oil, the texture reminds me a lot of Dior Addict and it delivers a glaze of sheer, moderately buildable colour with a hint of shine and shimmer. It's actually rather more pink on the lips than the brownish red it initially appears at first glance in the tube: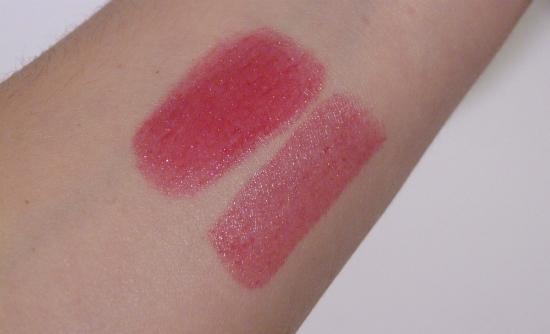 Advertised
Anything there take your fancy? And – I'm feeling nosy – does anyone have a dressing table anymore?