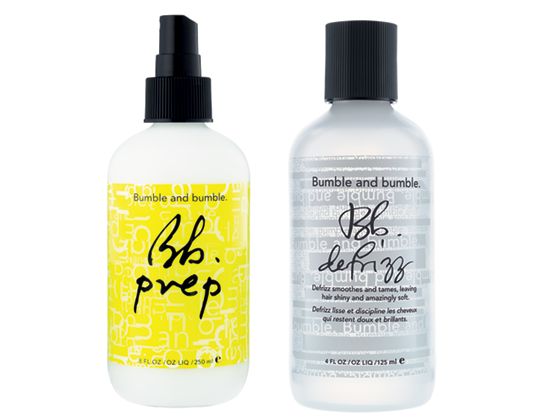 I'm a committed Aveda girl when it comes to haircare, but when I was going away recently I had no small sizes of my usual styling products available, and decided to take along some travel-sized Bumble & bumble products instead, to see how I liked them. The products I tried were Prep and Defrizz.
Packed with a multitude of vitamins, Prep is a spray in product used (as the name suggests) to prepare hair for blowdrying and styling. Sprayed onto towel-dried hair after washing, it detangles and gives hair 'slip', making it super easy to comb through, even when I don't use conditioner. It also leaves my hair feeling lovely and soft, which I notice even while blowdrying, and yet not so soft that my hair feels limp or doesn't hold a style.
And one of the top draws for me is that it dampens my hair again slightly before i start to blowdry - I have a halo of really fine hair around my hairline that dries quickly in out of control waves and if I don't make it to these parts with the blowdryer and a round brush before they dry naturally, there is no controlling them. Using Prep, however, I have smooth, sleek hair with no tell-tale flyaway bits.
The second product I tried was Defrizz - a serum designed to protect against frizz and keep hair smooth in humid conditions. Unfortunately this one didn't bowl me over as much as Prep did. For starters it's a much thicker, heavier serum than the Aveda Light Elements Smoothing Fluid I usually use.
Advertised
My hair is fairly fine, despite its tendency to frizz, and even when using a very small amount and only applying to the very ends, my hair just felt too heavy and coated with Defrizz. I also didn't find that it made it any easier to give my hair a smooth and sleek finish when drying. In fact after more than a few unsuccessful uses, I gave up and just applied a bit more of the Prep to begin with and found that I got a better finish for my hair with that alone. However, if you have more coarse or very dry hair which needs a thicker serum, this might be one to try.
A 50% success rate on my Bumble & bumble hair trial was a pretty good outcome, considering my loyalty to Aveda. I will definitely continue to use Prep - particularly when I'm in a hurry and need something that makes a speedy blowdry that much easier.
You can find Bumble & Bumble at Peter Mark salons and selected stores and salons nationwide. Check the stockists info for details.