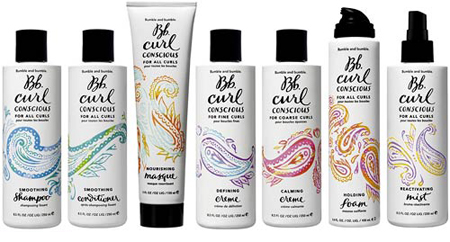 Like a man hitting his forties and in mid life crisis mode, I was dying to try something new.
On the haircare front of course. I was kind of tired of my Kerastase and Frizz Ease routine and although I vary it with Aveda, it was all getting a bit boring. So when the updated Bumble & Bumble Curl Conscious range hit the salons I was ready to make the change and gathering my courage, I bravely embarked on a new curly journey.
Calming Creme
Shampoo and conditioner went on well. Then came the Calming Creme - a balm which you apply to wet-ish hair and smooth through - to dampen down any suggestion of frizz. My hair is long, so I always squirt tons of balm and serum out to make sure I'm getting enough and pay no attention to the directions on the bottle. But with this one you need surprisingly little. I'm ashamed to say I had to use the balm for -cough- Coarse Curls. I'd prefer it if they referred to it as "Thick curls" but how and ever.
Now all you laydees with the curse of curly hair will be familiar with this feeling. The moment the hair starts to dry, with a new untried balm or serum in it, is the moment I dread. Will it BE STRONG ENOUGH to fight the furze bush?
Advertised
Holding Foam
I panicked. When the unruly gruaig was half dry I went ahead and whopped a dollop of Holding Foam on top. This did the trick: it defined the curls and held them in place. I'm liking this a lot - if you want to start with one product from the range this is the one to go for.
I emailed Kirstie. "I am LOVING the new B&b range!" I reported. It's truly a joy to find such great products. Hurrah!
The four products I'm using are Curls Conscious Shampoo, Conditioner, Calming Creme and Holding Foam. This is a salon range so it's not the cheapest - but salon haircare is head and shoulders (geddit?) above the supermarket brands - ask for this as a pressie if you can't justify the spend at the moment. Buy in Peter Mark, Nue Blue Eriu or from Sobe Brown in Cork from the 16th Feb 09, or online. From around €25.