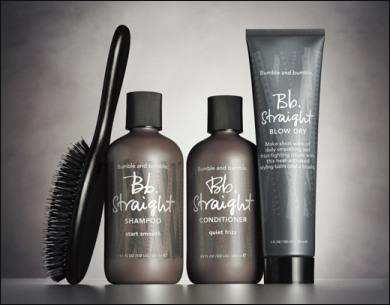 You'd think I would know better at this stage. There is no magical solution in a bottle that will give me smooth, straight hair without putting a bit of effort into blowdrying it that way. And in fairness, Bumble & Bumble didn't even claim that this line of products would do that.
Designed to help smooth and straighten frizzy or curly hair, the Straight line of products includes shampoo, conditioner and blow dry cream, all of which promise to work together to result in smooth, sleek hair (with a little help from your hairdryer and a good brush). Unfortunately the line doesn't work for me, for a few reasons, though I can see it working for a different hair type.
Left to its own devices, my hair is a frizzy, wavy mess. I never just wash and go - I blowdry it every time I wash it and use a straightener when I want it to be extra sleek. However, my hair is quite fine and is not naturally curly and I think that's why these products didn't suit it. Like a lot of smoothing or straightening haircare products, they seem to be designed for hair that is naturally curly or coarse, where they can coat the hair to help smooth it. On my fine hair, however, the result was hair that looked dull, felt weighed down and certainly wasn't any easier to blowdry straight.
Advertised
I liked the shampoo best - it was rich and creamy to use and didn't feel as though it was stripping my hair. The conditioner was a disappointment - my long and prone to tangling hair felt just as tangled after using it and there was no smooth or sleek feel as I'd expect. Even the blowdry cream didn't give me the nice slip that my usual serum does.
I was rather underwhelmed by the Straight line, but I know how one woman's Aveda can be another woman's Pantene. If you've tried any of these products, what did you think?