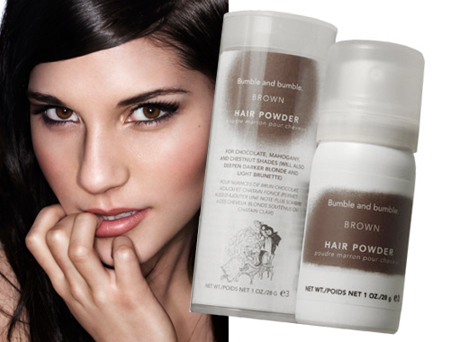 I'm a bit of a lazy cow. I'll happily admit that when it comes to my beauty routine, instant results are something I prize highly.  Which is why I like makeup so much, I think, because it's immediate - whack some on and hey presto! You look different. That's a result I can get down with.
Dry shampoo is another product I always have handy. Want another day out of a blow-dry, or just too lazy to wash it? Bingo. This stuff is indispensable for the indolent beautyholic. Usually it's trusty old Batiste, but I just got one of Bumble and bumble's coloured hair powders in brown, and while there's a shocking price differential (Batiste is about €5, B&b will set you back €18 for a small size on HQhair), there's also a pretty big difference in performance.
While Batiste was designed as a dry shampoo and not much more, the Bumble and bumble product is a bit of a multi-tasker: it'll soak up grease (yes, I know) allowing you to get an extra day or so from a wash, and because it's pigmented, it can be used to cover up roots between dye-jobs too. Or you can use it to plump up hair where it's sparse - handy for anyone with fine locks or who may be suffering from alopecia. Anything else? Uhuh - the texture is great, making it much better for styling than any other I've tried - lash a bit into freshly washed hair to give it a bit of hold and style as you please.
Advertised
Any bad points? Yup: do not go out in a rain shower with this stuff in your hair, because the pigment will roll down your face, which really won't be such a good look.  Price is another issue too, but providing you weren't spraying with impunity every day, a can should last a good while.
All in all, a thumbs up, and if you don't want to buy online, then the brand is available at Peter Mark salons nationwide.