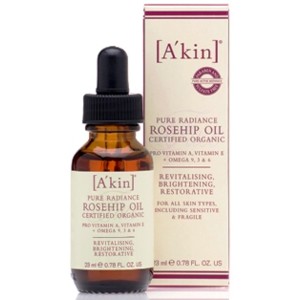 Rosehip Oil is something of a cult product here at Beaut.ie.  We love it because it's just so damn nourishing and great for skin.  So when A'kin sent me a bottle of their Pure Radiance Rosehip Oil to try out I wasted no time in giving it a good old run for its money.
A'kin (pronounce it ah-keen) is a brand we're not that familiar with in Ireland because it was kind of hard to get here until now.  Certified organic, this brand has all it's eco credentials in place - so if you love natural cruelty free ingredients A'kin might be right up your street.
This Rosehip Oil is an amber liquid in a dark glass bottle.  Three or four drops night and morning under your moisturiser works wonders to hydrate and soften skin.  I've got skin as dry as a Rhino at the moment and for me moisturiser alone never cuts the mustard.  I need serum or facial oil to provide that additional boost and the A'kin Rosehip Oil also contains lots of Omegas (9, 6 and 3), vitamins A and E along with the famed rosehip seed concentrate, so it's deeply nourishing and perfect for sensitive skin.
If you love Trilogy Rosehip Oil you're going to love this too.
Advertised
I asked them for 5 bottles to give away -  all you have to do to is leave a comment below.  Winners will be picked at random from the comments.  Good luck!
Available in pharmacies nationwide and Arnotts, Dublin.  Price €19.99 (23ml).
UPDATE: giveaway entries open until 15 Aug 11