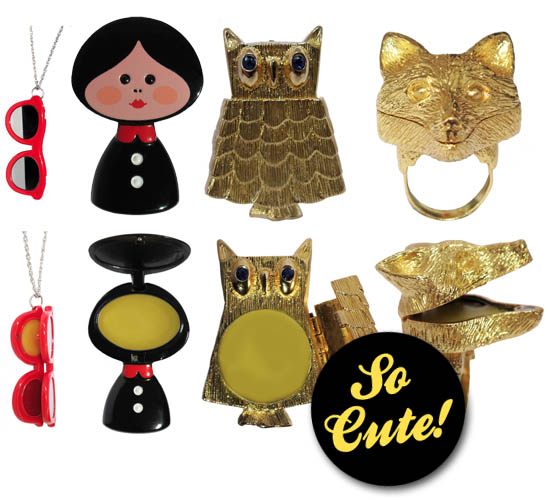 There's one word for aromatherapist Andrea Garland's vintage jewellery-inspired lipbalms and that's this: adorable.
LOOK AT 'EM!
Inside cute matryoshka-alike brooches, wily fox rings and sunglasses necklaces is hidden a well of a nicely natural, skin kind balm made from ingredients like sweet almond oil, beeswax, shea butter, red raspberry seed oil, vitamin E oil, benzoin, grapefruit, lime, lavender and carotene. Lots of ingredients are organic and while you'll shell out initially for the jewellery - that dapper owl brooch, or Archimedes as he's officially known - is £29.50/€34 ex shipping - you can get refills from £5/€5.75 which makes things a bit better.
Advertised
So, cute, quirky accessories, nice-sounding lip soothers and a good beauty pedigree (Garland's products have been featured across the UK Press), is there anything bad about these? Well - just one thing I can think of: which one to buy!