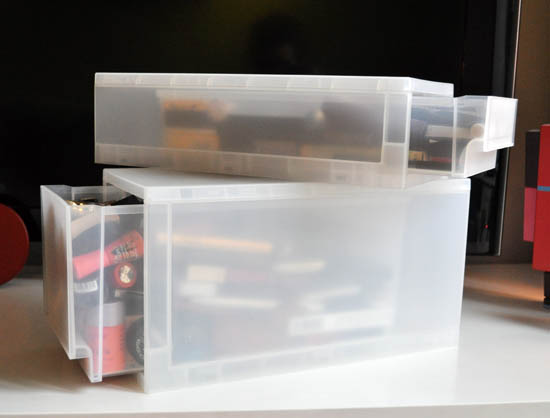 Xgirl's recent storage post went down a bomb - hey, who doesn't love having a nosy into someone else's stash? No one, that's who - and so I reckoned you might be interested in seeing how I, ahem, 'organise' some of my bits.
By organise I mean stuff I have that I throw things into and then forget about.
Like xgirl, I'm fond of Muji for well-constructed options that aren't crazy dear and which are absolutely ideal for makeup storage. Crucially as well, because I live in a very small flat, they're all very slim and fit into tight spaces. I've got a few pieces of Muji's PP storage, such as a three-shelved trolly which sits neatly behind my bathroom door. I keep things like skin, bath and body care in it; the top shelf is reserved for palettes and on top of the lot I've got the two drawers above stacked.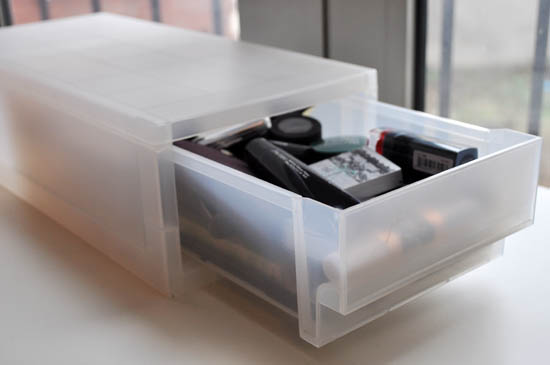 They're really handy; both are PP single drawers, one is about twice the depth of the other. I've no real system for these, I just er, lash anything to them though they mostly hold makeup.
I do have more specific boxes for lipsticks, eyeshadows and base products which I'll show you later in the week, but what I particularly like about these Muji drawers is the fact they're really sturdy, easy to wipe clean, keep everything neat, tidy and dust free. Because they're semi-transparent you can sort of see what's inside, but they're not majorly cluttery-looking. They stack well and are unobtrusive.
Price-wise, I have these for a number of years so can't remember the exact cost but they're not the cheapest - though I think they're worth it considering they've lasted very well; I do remember the conversion being horrible though. I also remember going into Muji on Chatham Street in Dublin shortly after being in Japan in 2007 to buy something and being au fait with the Yen/Euro at the time and nearly falling down with shock - they have the Yen price on the labels and it was something like double. So yeah, fly to Japan to buy your Muji shizz, peeps.
Advertised
Here's the aforementioned voyeuristic part of the post, so, lets get down to it!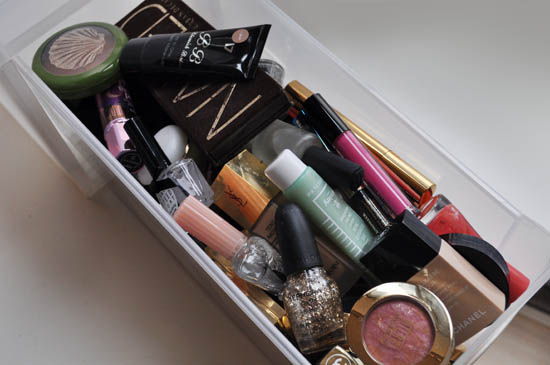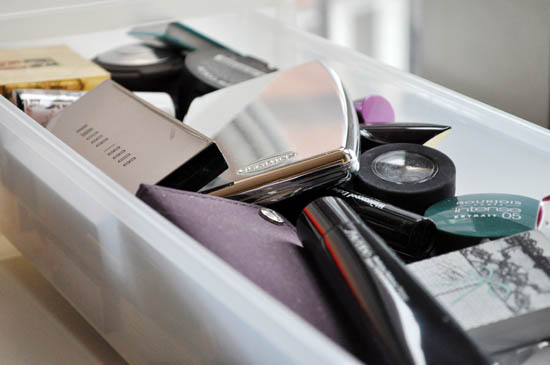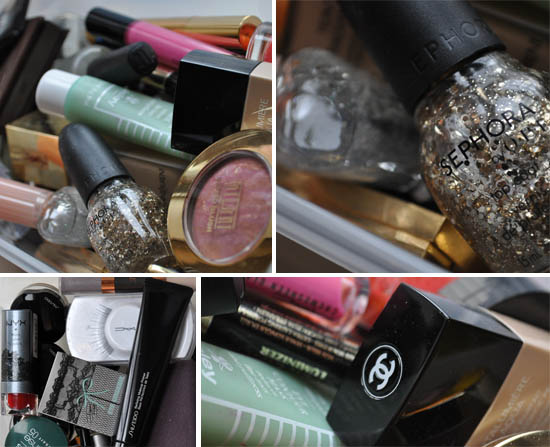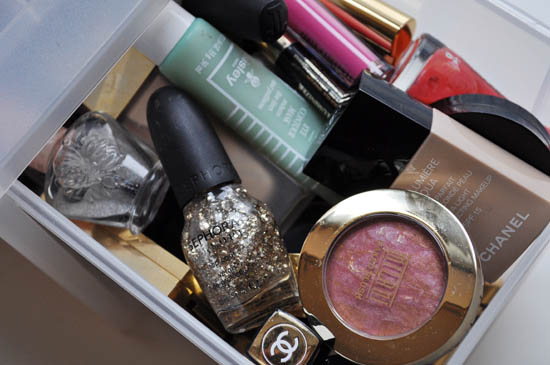 Ah, makeup porn.
So, how do you store yours?
Advertised