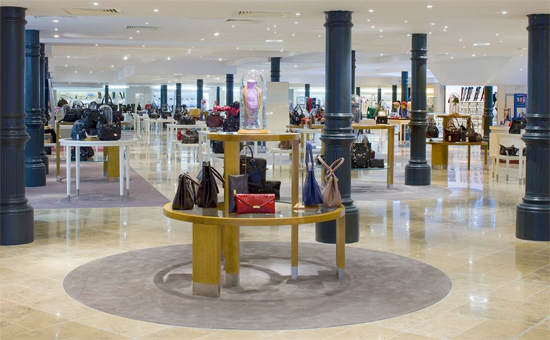 I've been waiting for this one for a while, bringing you news of a couple of new brands that were incoming to Arnotts, but hearing about the new developments was one thing; seeing them last night through a champagne-filled haze of happy was quite another. Psst: there were oysters on the half shell doing the rounds too, doused in dry ice, if you don't mind.
Forget the food, lets concentrate on the matter at hand. the new hall is gorgeous: immaculate, shiny white, spotlit and limestone-floored, the windows to the front are now open to view from Henry Street. The new beauty hall takes up where the old one left off and is now twice the size (it's now the biggest in the country), spreading shiny painted nails into the old shoe area, which is now to the back of the store. It's also managed to chew up a lot more space behind the escalators in the middle and seamlessly runs over towards gents fashions. It's massive.
(And yes, I know that's a pic of the bags, but as far as I know, the beauty hall didn't receive its finishing touches until yesterday, so please forgive and imagine the gorgeousness within your brain.)
Everything has had a make-over, including the brands in situ, all of whom have gorgeous, spacious new counters. Many have moved position - Dior is now at the front, Origins has a new round counter behind its old one and YSL is now beside the escalators.
There are a couple of main things of note for Beaut.ies:
Advertised
The jam-packed perfumery to the front right hand side of the shop is gone. In its place is a jewellery section and the new perfumery is behind the escalators, abutting shoes and the Wolfords/tights area. Spacious, with lots of room to browse, it's packed full of great brands like Anick Goutal, Prada, Acqua di Parma, D&G, Viktor & Rolf, Marc Jacobs and tons more.
There are TONS of new brands. You already know about Make Up Store (really, really impressive, by the way) and kaplanMD, but that's not the half of it.
Also newly arrived are
Strivectin
Cowshed
Trilogy
Dr Hauschka
This Works
Rodial
Rituals
Becca
Nuxe
That's on top of bloody tons of other brands like Guerlain, Chanel, Clinique, Shiseido, REN, Benefit, Dior, Clarins, Elizabeth Arden, Darphin, Planet Skincare, Skin Doctors, Zirh, Model Co, Mama Mio, Make Up For Ever, Faces, Estee Lauder, Lancome and oh, I'm sure I've definitely left a few out.
The verdict? Well worth visiting - oh you betcha.