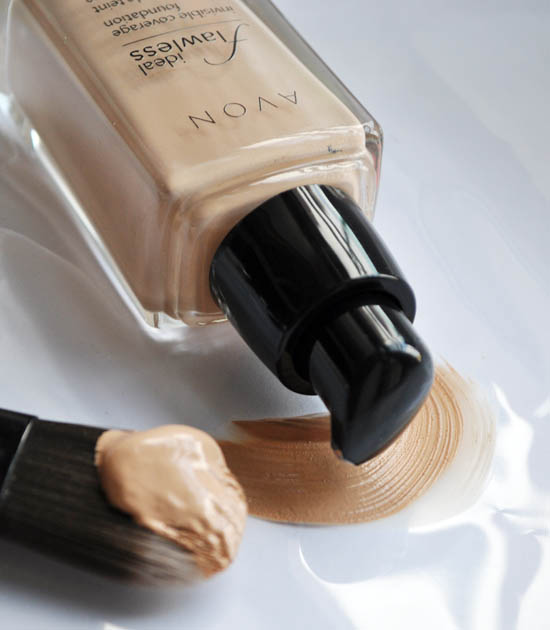 Of the three big new-gen longwear foundation launches to eat up a lot of beauty column inches of late - Chanel Perfection Lumiere, Lancome Teint Idole Ultra 24 and Avon Ideal Flawless - it's the latter that's firmly in the ha'penny place. Praise where praise is due, and I'm happy to heap it on Avon when it's warranted (the Supershock Gel liners are superb), but this new foundation line doesn't live up to its claims of a flawless, foundation-free finish for all skintypes.
It's got several really good things going for it like well thought-out packaging - the botttle's glass and pump good - a very accessible price point of €15.50 and a wide shade range of 16 colours, many of which are nicely pale or dark, so it's catering to two neglected skintones also.  Like Lancome and Chanel, there's a one-size-fits claim here which, until this year, no brand really achieved. It's very difficult to make a base that can work on a dry skin, a sebum-prone one and look good on an ageing complexion but certainly, with decent skincare used first, Chanel has managed it with Perfection Lumiere.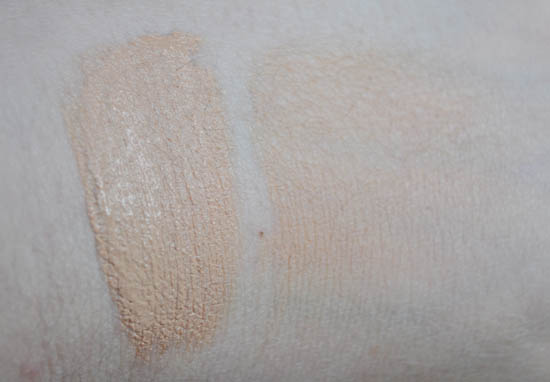 Swatch of Shell, the 4th shade in the range
Advertised
The other big thing the brand say is that it delivers "a flawless, natural-looking base." But I couldn't get Avon Ideal Flawless to work for me. The lightest colour, Light Pink, actually offered the best shade match out of the three new gen longwearing products I've trialled but the result looked so awful on my dry skin I hated using it.  No matter how well I exfoliated or moisturised, no matter how many oil and masque tricks I pulled, this stuff sought out and destroyed, clung to dry patches and accentuated them, which was odd considering how silicone-heavy it is.  It was like Mac Matchmaster all over again - flat, claggy and unflattering looking.
So, I'd say avoid this if you have dry-to-very-dry skin, and as a consequence I'd say avoid this if you have older skin too; it simply didn't flatter mine at all. But from reading a lot of reviews online, it looks like younger skins or complexions that are normal-to-combination or sebum prone may be absolutely fine with it. This one is just a classic case of not believing the one-size-fits-all brand message.
Avon products are available from the Avon catalogue and your local area representative.