 Having seen Avon Luxe Lace SuperShock Eyeliner in Black being absolutely raved about on UK beauty blogs, I badgered the lovely Irish Avon PR peep Aoife for one. And by badgered, I mean I sent her an email and asked her politely if she had one we could try.
Happily, she obliged and a couple of weeks ago, an Avon Luxe Lace SuperShock Eyeliner in Black, €9, landed in the letterbox. This is basically a gel eyeliner (like Maybelline or Bobbi Brown or Mac's pot-based offerings) in pencil form, and as such is beautifully malleable and creamy to use. Sharpen it and draw precise flicks across the lashline or smudge it out; if you work quickly you can achieve both.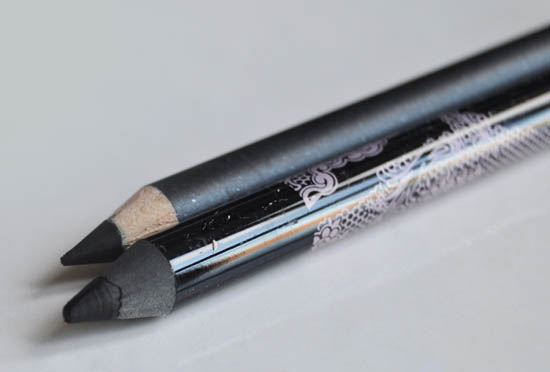 And I do mean quickly: this feller sets, and it sets good.  In fact, it's very much superior to pencils that far exceed it in price, and I'd even wager a bet that it could be a dupe for the Giorgio Armani gel liner xgirl raved about recently.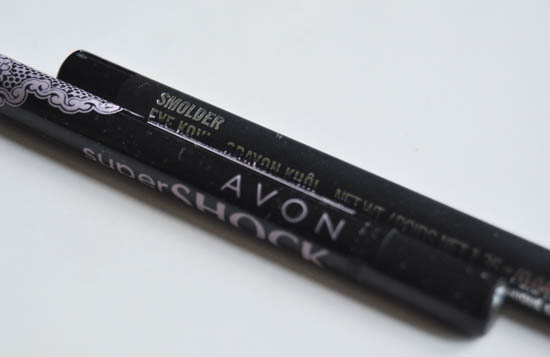 Or how about rating it against Mac's Smoulder pencil, for example? Another much revered item amongst beauty bloggers, I decided to pit them against each other for the purposes of this post. Now, I am aware this is not a like-for-like comparison: Smoulder is a kohl pencil and therefore a different formulation. But it is one that gets a huge amount of fervent love online, which I'm not sure it deserves, and which is why I picked it.
Advertised
In the pencil, they're not too dissimilar looking. But when you swatch them, oh, it's then you see the difference.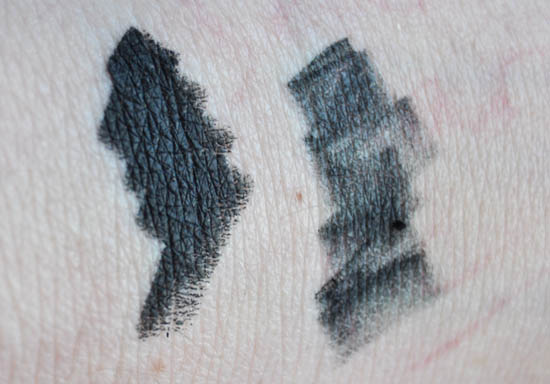 I'd have considered Smoulder (right) to have been a fairly decent black before I tried Avon SuperShock, which is swatched on the left. You can see the difference in texture and depth of colour immediately. And what about a few minutes later?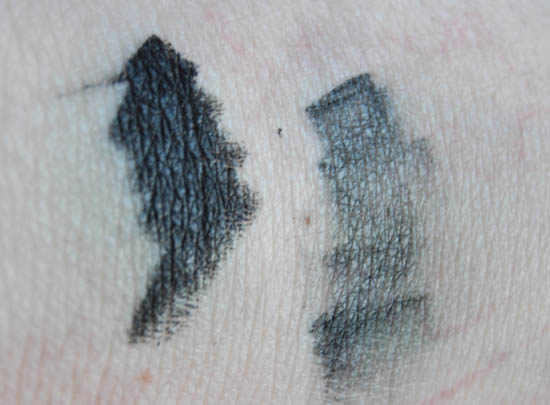 I rubbed these both very firmly: Avon's set pretty much rock-solid while Smoulder budges like bejaysis.
In wear - because dear readers, I have also applied this to my face - the Avon liner is a super-duper hassle free product to own. Yes, you will go through it quickly because it's soft and needs frequent paring, but for quick morning eyes when you don't want to mess about with brushes, it can't be beat. Budgeproofness on the lids - which generally tend to be oilier than your hands - is also very good. I wouldn't say this is 100% move-free, because after a long day there'll be a bit of transfer, but hey, it's really not a big problem.
Advertised
Does Mac Smoulder have anything over it at all? Well, yeah: you can use this as a base for a smokey eye and because you've got more play time with it you'll probably find it better for that. I'm not sure if you can use Avon liner on the waterline (I think there can be issues with gel and contacts, for example), while Smoulder definitely can be used there.
All in all though, my money's on SuperShock Eyeliner. Currently available in black and silver, it's also going to be available in Black Shimmer, Khaki and Copper later in the year.