 No one was more surprised than me to discover that I actually liked an Avon product. But before we get to the love, lets rewind a bit.
A sample of the new Moisture Seduction Lipstick, due to launch on the 31st of January, popped through my letter box and after I eyed it up dubiously for a bit, I gave it a go.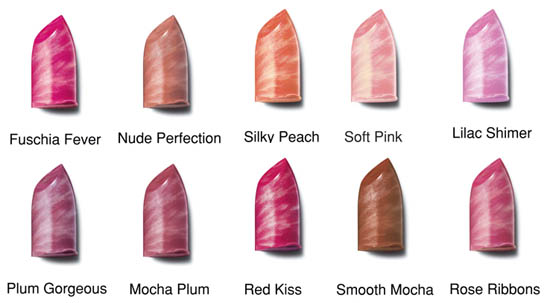 As above, the whole lineup consists of ten shades, mostly on the pink end of things plus beigy browns and a couple of braver shades, Fuschia Fever (do they mean Fuchsia I wonder?) and Red Kiss. I got the latter to try.  I'm not madly keen on the marbled finish which is as a result of the fact this has moisturising gubbins (an aqua silk complex, apparently) mixed in with the colour. Here it is in close-up glory.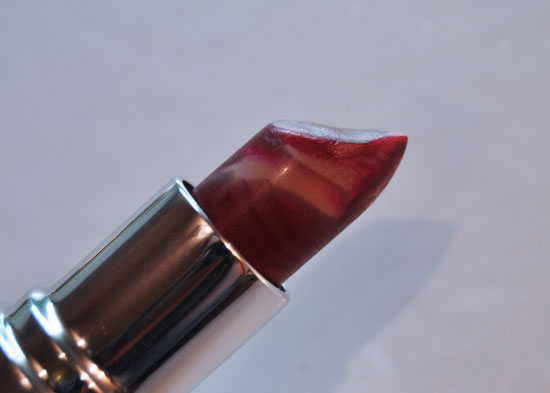 Advertised
I reckoned it'd apply unevenly and deliver a wishy-washy result because of the uneven colour distribution, but I was very pleasantly surprised when it didn't at all. The two elements blend out seamlessly when applied to the lips, so there's no worries on that score.
Packed with pigment, Moisture Seduction is indeed lovely and moisturising, looks satiny and sheeny on the lips and doesn't last half badly at all. Shade-wise, this particular colour, which I am guessing is meant as the red in the line, is a little more berried than I'd like and I wouldn't necessarily have picked it myself. I'm not entirely sure I'd wear the other colours either - though Silky Peach looks like it could interesting and some of the paler pinks could be a goer for office wear.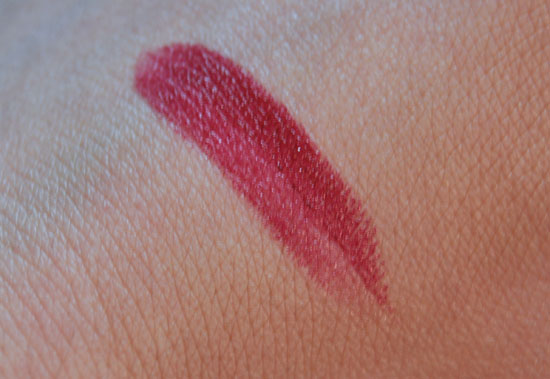 And here it is on the skin. Nice, eh?
These are definitely worth a look and deliver far past my (admittedly meagre) expectations. I generally think Avon is overpriced for a brand with no bricks-and-mortar stores and all the associated costs that come with that, and (correct me if I'm wrong) which doesn't seem to have any massive advertising or marketing campaign behind it either.
Advertised
But at €12.75, these are fairly priced and will be a good go-to for a lipstick fan who wants something inexpensive yet packed with colour, comfortable on the lips and all-round reliable.