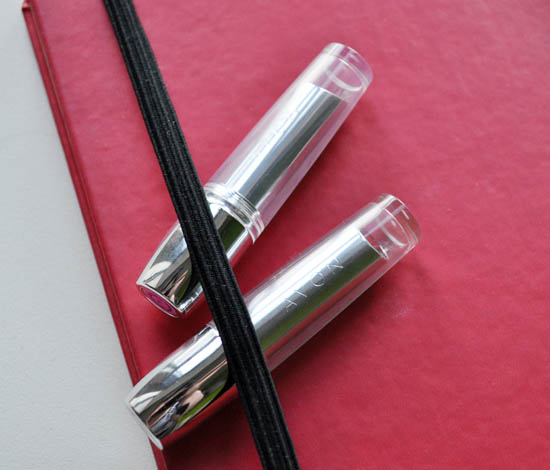 Treating me like her makeup artist-cum-personal assistant, Aisling ordered me about the hotel room before the Cork Gorgeous to Go book signing. "I need a belt," she declared as I scurried to find one to suit her dress. "Blusher," she instructed next as I rooted in my makeup bag for a suitable candidate. Next up? "Lipstick," she enunciated tersely, hand out like a surgeon mid-operation, "preferably a pinkish red."
Aha, I had just the thing.  I'd been to see Avon's SS12 products earlier that week and I knew she'd love the Shine Attract Lipsticks, 10 of which will launch in January for €11 a go.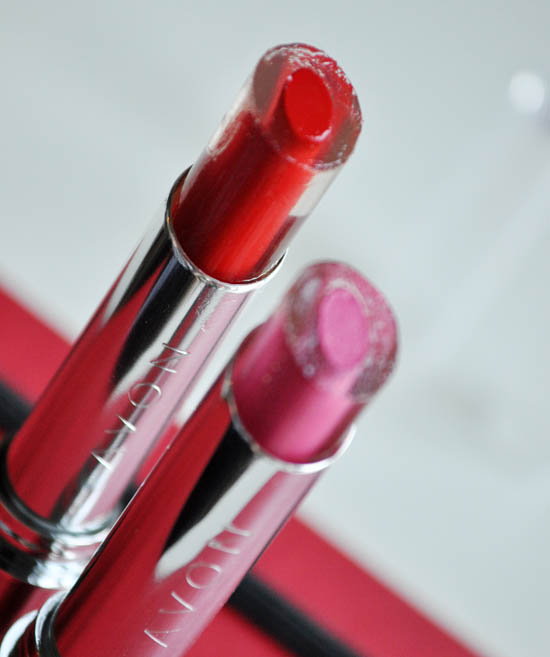 "Ohhhhhh!," she said, all enchanted, as I handed her the bullet.  These are no regular lipsticks, y'see. Taking more than a nod from Asian brands' jelly core offerings (not to mention Estee Lauder's Pure Color Sensuous Rouge Lipcolours), Avon has encapsulated a central shaft of colour in a wrapper of hydrating vitamin E gel. That adds up to a glossy, semi-opaque shine on the lips that's perfect for you if you don't love a full-on lipstick result and want comfort to boot. There's an added SPF of 15 too.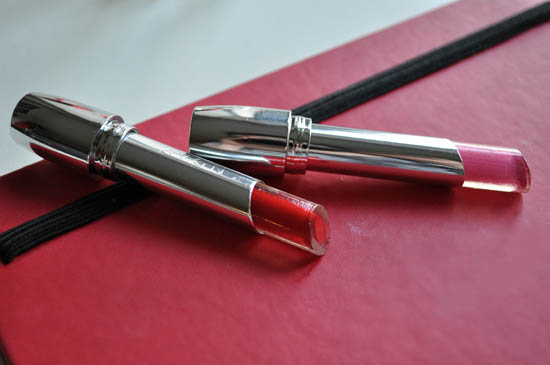 Advertised
Somehow, out of the five I had been given, I've only ended up with two. Funny that ..
Anyway, it's enough for you lot to have a goo at and get a sense of 'em, and they're Really Rather Nice. They definitely deliver enough colour to be noticed and you can lash a bit more or less on depending on how much impact you'd like. Wear isn't, of course, that of a matte lipstick, but they feel nice and conditioning which is the pay off.
Now, I do have a couple of reservations: These are overpriced for catalogue lippies at €11 each I think, and packaging is quite flimsy too - the cap doesn't click down as well as it could, so beware carrying them about in your bag. These will need to be contained within a makeup bag - no throwin' and goin' unless you don't mind Crayola-ing the inside of your mala.
That aside, definitely worth a look when they hit the Avon catalogue in January - and if they're on offer then even more worth a look.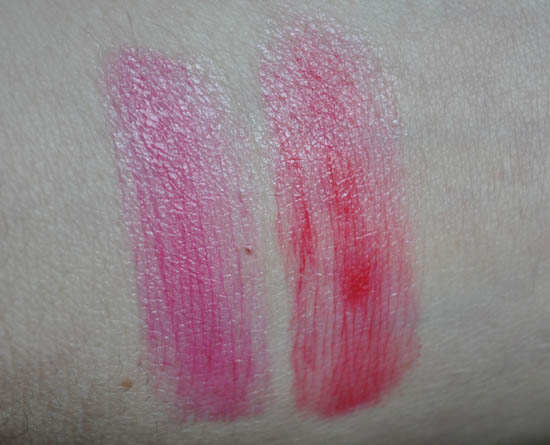 Advertised
Lastly, here are swatches of the two I have. Left is P4 and right is P302 - once these hit the catalogue they'll have names - I *think* these two will be Happy Pink and Passionate Red.
So, whaddya think: intrigued by the gel wrapper and colour core or cor blimey, it's a gimmick?