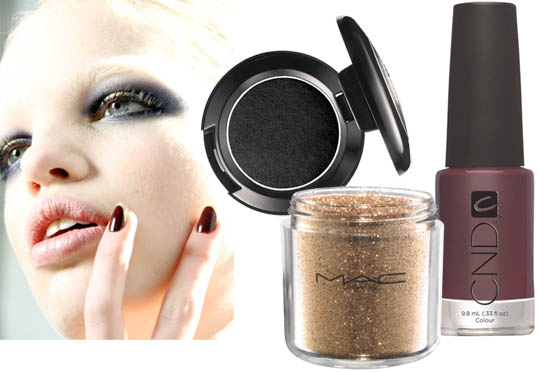 There have been a lot of beauty looks sashaying down catwalks in the last few weeks as fashion weeks popped up Mexican Wave-style globally, before winding down and passing on to another city where the surge began anew. New York showcased one of my favourite autumn 2011 trends so far, though: the look at the Jason Wu show made me clap my hands together with delight because not only was the makeup extremely beautiful, it was also that rare thing: wearable.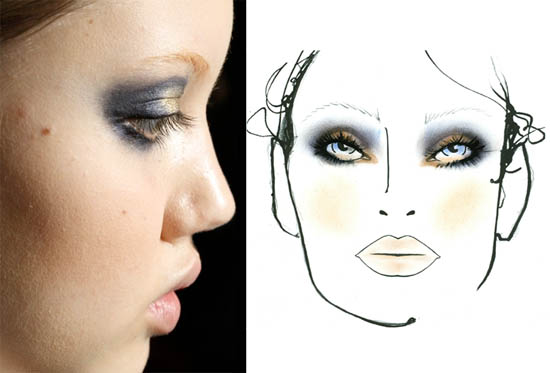 Mac makeup artist Dianne Kendal was responsible for this gilded beauty. "It's Versailles pulled into the modern world. A vibrant gold highlight amidst a deeply shadowed eye gives a baroque twist to a simple look," she explained, but hey - we want to know what she used. Face first: Studio Sculpt foundation was used along with Mac Pro Light Sweep Shaping Powder which was blended for a warm contour over cheeks.
Clearly, the eyes have it for this look - here's what was used: Smothered Cream Shadow (which we can expect to land in autumn/winter 2011) was blended with Pro Marine Ultra Chromagraphic Pencil over the eyelids and through the lower lashline and used as a base. Then Thru The Night Pro Longwear eye shadow and Carbon eye shadow were blended over that creamy base for a smoky intensity through the inner and outer eyelid. Old Gold Pigment was applied to the crease and used as a highlight over the center of eyelids and inner corners of the eye was Pro Gold Glitter. Lastly, used for a jewelled effect, Pro Gold Glitter was applied over the center of eyelids. Swit swoo, eh?
Lips were kept very bare - just some Lip Conditioner blended with a bit of concealer to take down the natural lip colour and Shell Cream Colour Base was applied for a subtle highlight.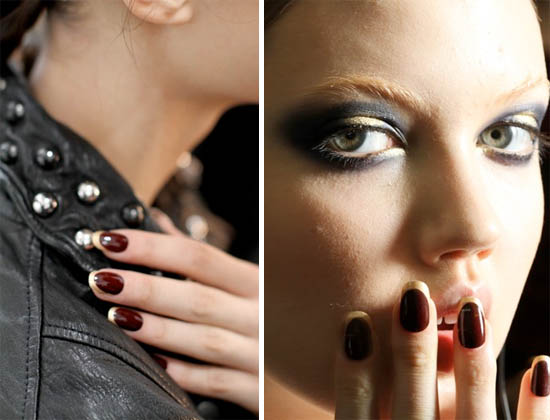 Advertised
Now, the other half of this stellar look: nails.
Yeah, it's not new, this reverse French but for me, this is eternally chic and never gets old. Like the gorgeous Ruffian nails from a previous season, CND worked its magic here. Jan Arnold was the manicurist and according to WWD, she used three shades of nail colour, after filing the nails into that very on-trend almond shape.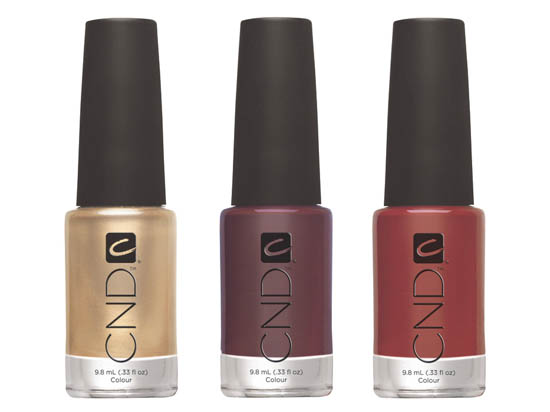 Dark Ruby (middle) went first, with a coat of Bloodline (right) on top. The pair mixed for a burgundy result. The tip was then achieved using CND colour in Gold Chrome (left). If you happen to have a spare YSL Manucure Couture in Belle De Nuit lying about the place then it'd act as a very respectable stand-in for these three shades.
What do you think? Wearable or am I off my rocker?
Pix via WWD.com
Advertised