 Last week in the back to basics series, we covered the what's what of makeup brushes. Brushes aren't always needed, but they're more necessary for eyes than any other area of the face.
Lipstick is an incredibly fun and expressive way to play with makeup, and it's easy to do for beginners. Eye makeup, though, is special. I felt particularly attached to strong eye makeup in my teens (Mac's eyeshadow in Amber Lights was a great favourite) - it reflects mood and sets the tone of your makeup. A smoky eye, a sultry cat eye, or even a pared-back, lashy look. These all help you to reflect your mood and have fun with your makeup.
If you're a beginner, though, the basics tend to be overlooked, so we're going to go over them for you now!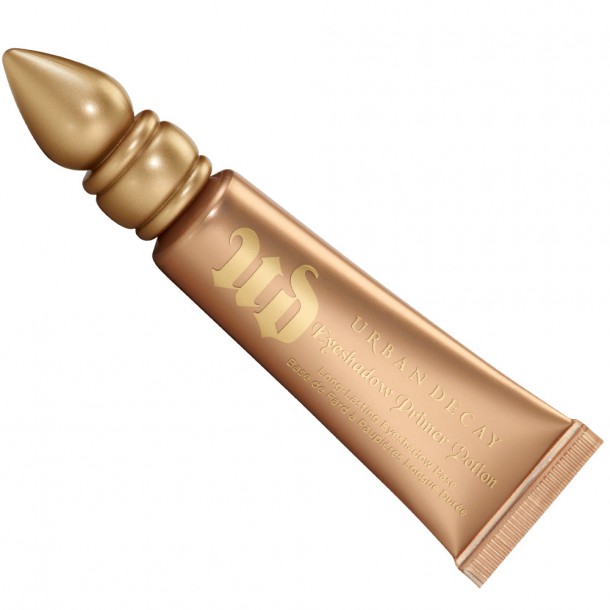 Eye primer has its place. This one, by Urban Decay (€21), has a nude hue to it so it can work as an eyeshadow all by itself, neutralising any little veins that we all have on our eyelids, or it can be used as a base for eyeshadow.
When you're applying lots of powder shadows (or a lot of one powder shadow!), be they loose or pressed, they need something to grip onto so that you'll get less shadow falling down onto your cheeks and to help your makeup stay in place for hours. Primers also have the benefit of bringing out the pigment of your eyeshadow, as the slightly damp surface provided by the primer intensifies the finish of your eyeshadow, so metallics will look more intense, and colours will look more opaque!
Advertised
If you're not in the mood to use a primer, a cream shadow or eyeliner buffed over the lid will also make a very effective base for powder shadows, or obviously look great all on its own. You can pop this on with a flat shadow brush, or the lazy (and entirely effective) way with a finger. Try to use your ring finger as its the weakest one, and minimises the chances of accidental eye jabs!
I'd recommend customising your own eye shadow palette. Loose pigment shadows which come in large pots are lovely, but they make a mess and they're harder to travel with. The palette above is my much loved (and well used, as you can see) Mac palette. You can buy the empty palette - this one is pro size and has space for fifteen shadows, but you won't need that many. Palettes from Mac come in lots of size options, from dinky ones with space for two shadows (perfect for giving my basic brow tutorial a go!) all the way up to the big one pictured above. Other brands like Inglot offer a fill-it-yourself palette system too, so shop around!
To start, four shades is perfect. Think of the shades you most like and tend to wear, and go for a range within that colour family with a mix of textures. A matt nude is perfect for your base colour (over primer if you want to really make an effort) applied all over the lid. Next, a slightly deeper shade - say a taupe colour, to run through the crease (the place where your lid folds when you open your eye). Then a deeper shade - say a chocolate brown, to run over the outer third of the eye and through the crease. Finally, a glitter or metallic shade to pop in the centre of the lid to catch the light!
For a subtler day look, use just the two lighter shades, for a deeper night look, use just the two darker. With four great eyeshadows, you can conquer the eye makeup you've always wanted to wear.
Advertised
Next week, we'll be doing a Valentine's Day inspired date makeup look. What would you like to see? Share your thoughts in the comments!