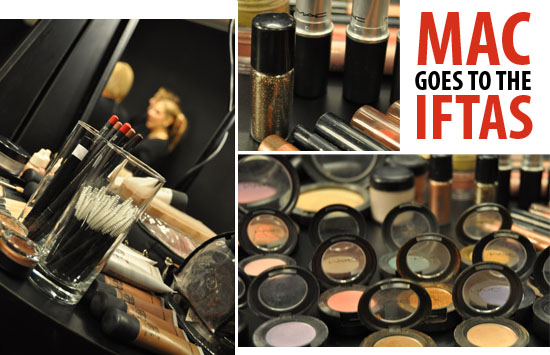 When Mac ask you would you like to pop along to their suite on site at the IFTAs ahead of the event, the only answer to give is a whole-hearted yes. So that was why myself and my pal Natalie were present and correct at the Burlington today at 12pm, her with a face bereft of slap, and me with a camera in tow.
The awards show kicks off tomorrow night but the brand's makeup artists are hard at it today, prepping and preparing the perfect red-carpet looks they'll be using on the faces of the 'slebs tomorrow. Natalie was my (willing) stooge and senior artist for Ireland, Lesley Keane gave her two different looks, both of which are ideal for those red carpets we all regularly trot down, as well as of course, any event or big do you might be taking yourself off to. Or even, y'know, just a night down the pub.
We kicked off with a very clean face complete with flattering falsies and a perfect, matte pout. The second look was a really edgy purple smokey eye, and you can check out both after the cut. This post is very picture-heavy, a warning!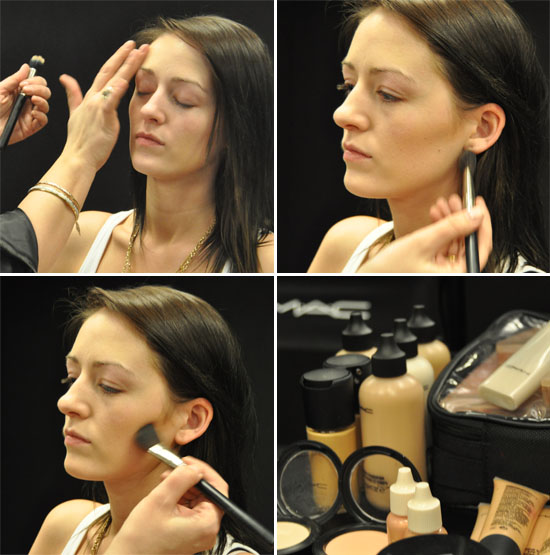 Face first, gals. Lesley prepped with wipes and Prep + Prime and then buffed on a small amount of Studio Sculpt using a gorgeous teeny weeny version of a MAC #187 - the #138, to be precise.  Moisture Cover concealer was used and then Lesley went straight into contouring, using a Mineralize powder, with Accentuate (a pro product) used to highlight. This immediately gave a sculptural feel to the face and Lesley emphasised that a look featuring a strong lip needs to have a well contoured cheek and eye to lift it out of the ordinary.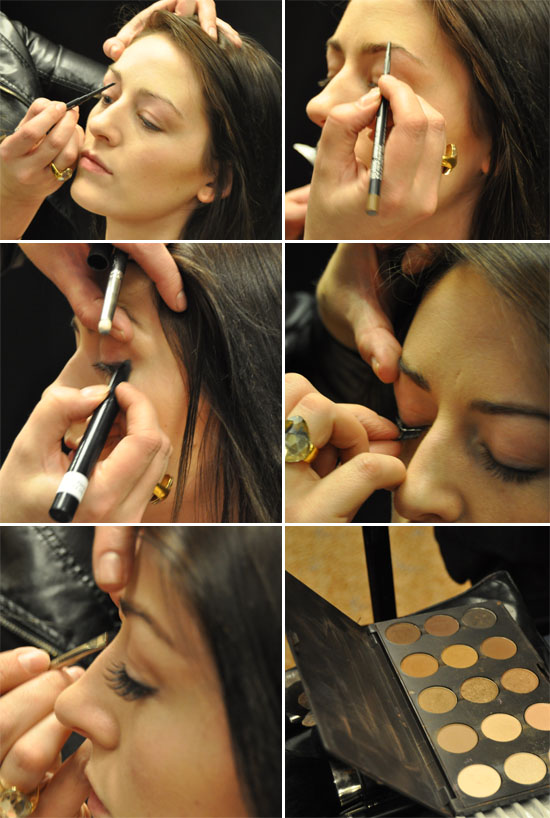 Once that was done, she moved onto eyes. Brows happened first, and Lesley shaped and filled in Natalie's with brow pencil in Lingering, and highlighted beneath them with Accentuate again. A greasepaint stick in Zinc Zone (not out yet) was used lightly to the edge of the upper lashline and smudged using a brush, and then lashes were applied. Lesley carefully tapped Lashes #7 into place after trimming and prepping them with a little Duo glue, and once they had set, she brushed some mascara through to bond false and natural lashes.
On the lid, she used shadow in Omega and on the lash line, Zinc Zone and liner in Blacktrack. She tidied up with a little concealer to finish.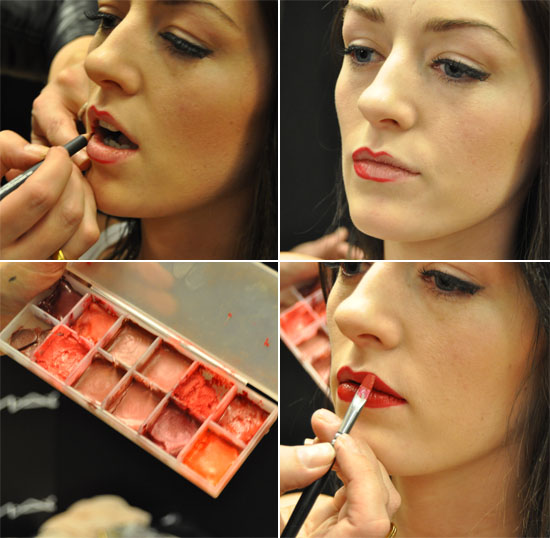 Lips - the focus of the whole event! They were first lined in Cherry lip pencil and then filled in with Ruby Woo. As it's very matte, Lesley mixed it with a little lip conditioner to make it more comfortable to wear.
Advertised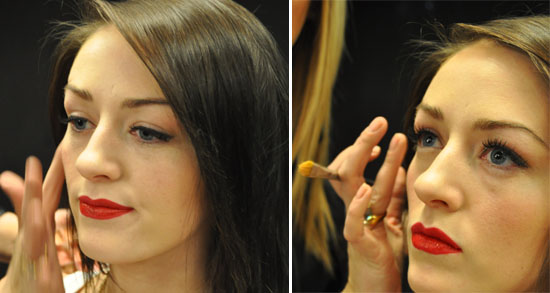 Blush was the last step, and Lesley patted a small amount of Blushcreme in Ladyblush right on the fleshy apples of the cheeks, and that was it - the big reveal is just below.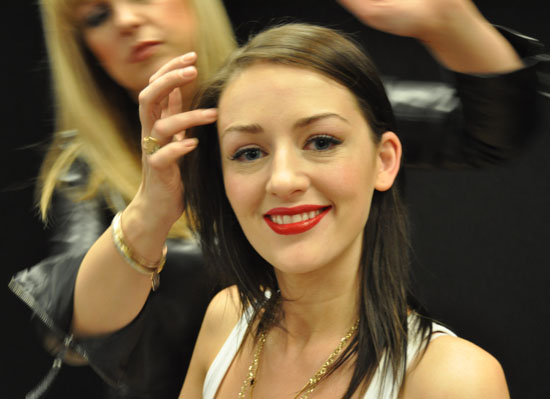 Gorgeous, eh?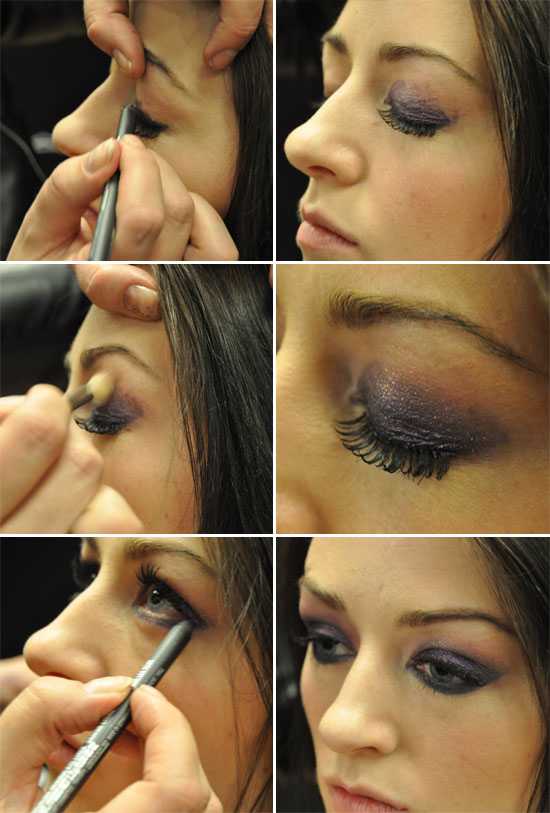 To kick off the purple smokey eye, the red lipstick was removed *sob*, and Lesley then got to work prepping the eyes for their dramatic makeover. Skin, blush and contouring all remained the same as look one. This one is all about the eyes, and brows were defined a little more and then we kicked off with a soon-to-launch product, Pearlglide pencil in Designer Purple. The pix don't capture how lovely  this colour is - creamy and blendable, it's super-shimmery and metallic. Gorgeous.
Lesley drew it onto and above the lashline and blended it out, then did the same again up to the crease. She used shadow in Smoulder on the crease and Fig 1 into the crease and blended well above. Below the eye, she used Pearlglide pencil  again.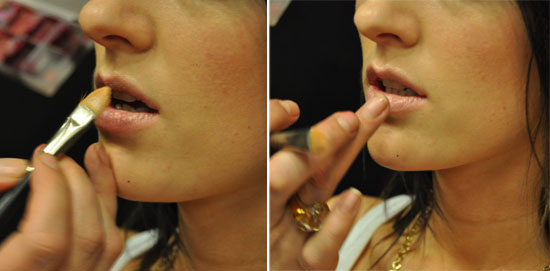 Lips were kept really simple: just a hint of lipstick in Pretty Please was applied and 'bounced' into the lip with a finger.
Wanna see the over-all effect? Oh, it's below!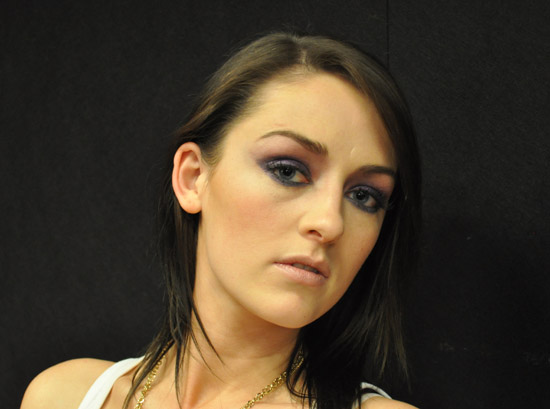 Advertised
My exceptionally un-great camera skills haven't captured how nice this is - really dramatic but not overly Sky newsreadery, there was no shimmer used on the brow-bone for example, so it was all about texture and colour, and it was really pretty.
So, there you have it ladies - which look is your favourite, and which would you wear if you were attending the IFTAS tomorrow night?