 Whether you like to spark 'em all up every evening so that your gaff resembles an '80s music video or you're very sparing with your burning of The Good Candles, there comes a time when every jar of lovely scented wax sputters to a smoking, curling stop. You could chuck it in the recycling, or you could make that expensive sucker continue to work for you even after its days as a literal light of your life are long gone.
Here's how.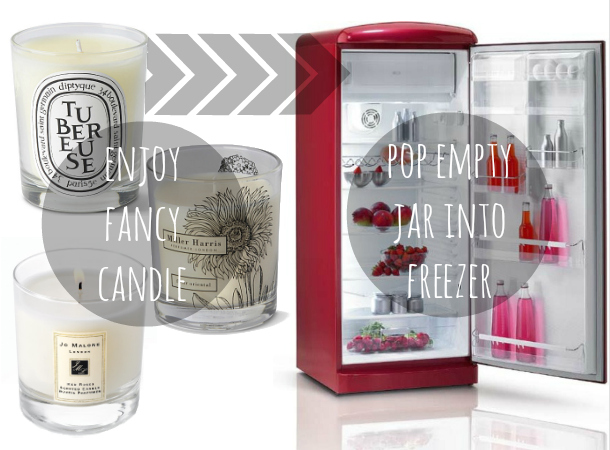 When the candle's all burned out, make some room for the empty glass container amidst the frozen peas and last week's lasagne and leave it in the freezer for at least a couple of hours. The sub-zero temperature will have caused the wax to harden, so you can use a blunt knife to scrape and prise any lingering wax remnants from the glass. (Mine still had a little residue around the sides at this stage, which I wiped clean with a drop of vinegar.)
Now you have a shiny new receptacle for corralling, well, whatever crap you deign to drop into it.
Because everything looks fancier in a posh labeled glass, yo.
Advertised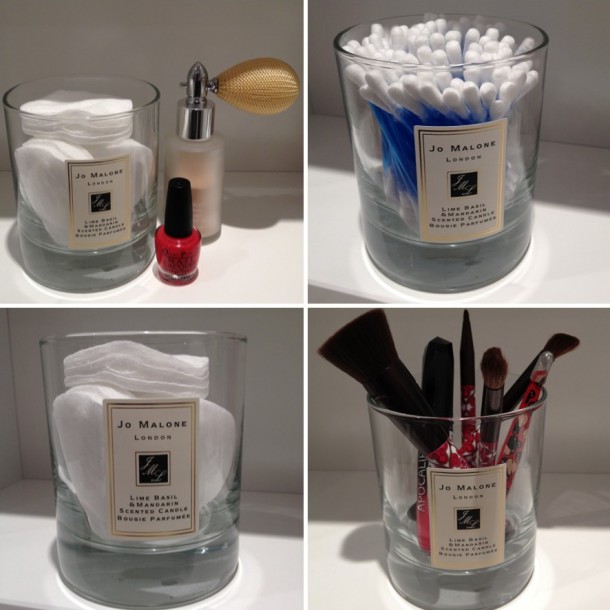 I've also been thinking that empty candle jars could also make swanky pen holders, random bits of make-up holders, nail accessories holders... you get the picture. Oooh, also: potential mini-vases for short stemmed flowers.
BOOM!
Do you repurpose your empties?