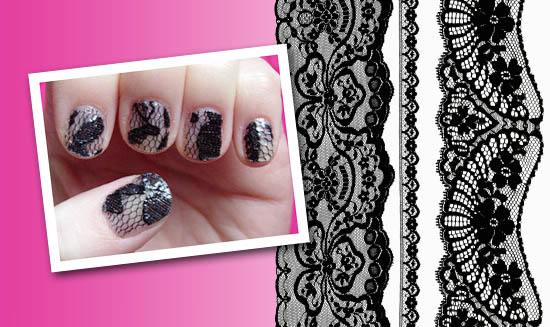 I'm still not quite over the desire to Minx my nails, but I've been distracted lately from their mirror-finish gloriousness by the lace manicure. It's not exactly a new concept: the Japanese have been at it for donkey's years. However, with so much lace on the runways in recent seasons it's a look that's been cropping up on 'slebs in the last little while as statement nails gain in popularity this side of the world (finally, something to thank Lady GaGa for.) You may even have seen it without realising, especially if you've spent any time ogling a certain black knuckle-duster McQueen clutch. Drool.
There are a couple of ways to achieve this lace manicure look - if you're a Konad (nail stamping kit that I am dying to have a go of) fan, you can get plates that can be used to create a lace effect, and there are even lace-look Minx decals. However, for the true textured lace mani, you need to use, well, lace.
If you have some old net curtains handy or live within striking distance of a trimmings store, you're all set. If you have a harder time tracking some down, think outside the bosca - I wanted but couldn't find black lace, so I bought a headband with a black lace corsage from Penneys for all of €1.50 and just used the fabric from it. Sorted!
The simplest technique I've been able to find is the one recommended by celebridee manicurist Elle Gerstein (responsible for the aforementioned McQueen nails as well as the lovely lacey numbers sported by Blake Lively), and, of course, it isn't that simple at all. It involves using a brush-on gel resin or nail glue and a dry-fast glue spray, and while the results look incredible if you happen to have those items to hand, you'll either have to soak your nails in acetone and then buff off your lace mani, or wait a couple of months for it to grow out.
So here's what I've been doing and what I recommend trying instead:
Advertised
Use thin, light lace. I was only joking about the net curtains. It should ideally have fine detailing with lots of open, mini fishnet-looking work.
Roughly trim the lace to the desired size for each nail. It's not difficult, it's not particularly time consuming, and it's a lot easier to do before you go sticking it down on the nail plate. Just try to get the sides and cuticle edge right - you can use a sharp nail clippers to tidy up the free edge later if necessary
Ensure nails are completely clean and free of any oil or grease by swiping a cotton pad soaked in nail varnish remover across them. Apply base coat (no prizes for guessing what mine was) and 2 coats of colour if you're using it.
Apply an even layer of a thick top coat. I've been using and would recommend Seche Vite for this job: it goes on thick, will still dry rock hard even if you really, really pile it on, and is self-levelling so it'll sink down into the holes of the lace and give you the best chance of achieving a smooth finish.
Move your pre-trimmed piece of lace into position and press it down firmly on the nail plate. This means that your base coat will ooze up through the lace, which will ultimately help to keep it in place. No panic. Keep pressing the lace down until your top coat has dried.
If you need to trim the lace further, do it now.
Add another even layer of Seche Vite, taking it right over the free edge of the nail and over the lace on all sides. Carefully remove any excess with a cuticle stick while it's still wet.
To deal with any errant bits of lace that aren't totally secured to the nail bed, I've been using a safety pin to gently push and hold them down as the last layer of Seche Vite dries. Sounds mad, but its self-levelling properties mean you'll still get a smooth finish.
Otherwise they may get snagged and cause your lace to lift... which, ahem, may be desirable in some instances but not when it comes to this manicure!