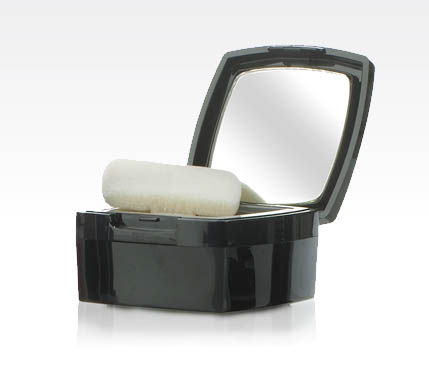 Lots of bits from Barbara Daly's line for Tesco are worth picking up (we particularly like the concealer and the nail products) and I've just discovered another one: the super sheer loose powder. At €6.65, it gives a good result.
I'm a fan of loose as opposed to pressed powders in general, (though I've been trying a pressed compact recently from Sisley I like a lot), and this feels silky to the touch and not at all gritty, which can be an issue with cheaper products. Translucent, you can use it to set foundation or on its own. Over foundation, it doesn't add colour and a little seems to be enough to set makeup, so you don't end up looking cakey.
There are a couple of things I really don't like about it and numero uno is the very wee size of the tub. Now look, I know it's cheap, but you only get 3.5g for the price. The tiny tub leads to other problems, namely, it's quite hard to get at the product. It does come with a leprechaun-sized puff which I immediately discarded in disgust - seriously Barbara, do you really expect an adult woman to try to set her foundation with something that's about an inch on each side?
Advertised
Needless to say, I'm using a brush. Problem. The brush head is bigger than the dispensing aperture so it's hard to get powder on the brush evenly. So, what to do? I think the best thing to do with this is to dispense it into an old loose powder tub, if you have one lying about the place.  Then throw the annoying tiny carton into the bin where it belongs.
That'd save a lot of time and hassle with what's otherwise a good product, methinks.