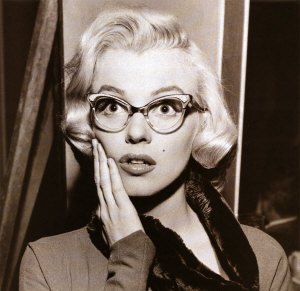 In yesterday's post, I talked the glasses-wearers among you through a few basic, everyday eye make-up tips to make the most of your peepers, whatever your prescription. Today, I'm turning my attention to eyeshadow - what colours to choose and the application techniques to use to make sure your eyes are worthy of all the attention your lovely frames are drawing to them.
Well, like yesterday, much depends on whether you're short-sighted or long-sighted. Not sure which category you fall into? If you're short-sighted, you'll have difficulty seeing things in the distance clearly without your specs; if you're long-sighted, you'll have trouble see nearby objects clearly without your specs.
Regardless of your prescription, though, the usual guidelines of eye make-up apply - chiefly, opt for colours that flatter your eye colour and skin tone. You do not have to match your make-up to your glasses!
Advertised
You should work with at least two shades of your chosen colour, and the simplest way to do this is to use an eyeshadow palette which already contains a few variations on a colour theme. Most brands do these kind of products in a load of colourways; two that spring to mind immediately are Bourjois with their Effet Lumière trio eyeshadow and Chanel with their gorgeous, covetable, want-'em-all quad palettes.
Short-sighted?
- You can get away with bold colour choices once shadows are well blended with no harsh lines, so be as adventurous as you like. Be wary of dark colours, though, as these have a tendancy to make peepers look smaller.
- Use the lightest shade of your chosen colour towards the inner corner of your eye and across the eyelid, blending towards the darkest shade at the outer corner.
- Only use a small amount of the darkest shade to define your socket line; overdoing things here will make eyes appear to recede into their sockets and they'll look even smaller behind your specs.
- Try your hand at creating a slightly winged effect from just past the middle of your eye socket - it takes practise, but helps to make eyes look bigger when done correctly. What you're ultimately trying to create is the impression that your eyes are almond shaped. You can use something like a folded tissue or even a business card to create an angled line between the outer corner or your eye and the tail end of your eyebrow and act as the guide for colour placement. Or just use an angled brush loaded with shadow to create the bottom of the wing, easy peasy. Be careful not to go too far out from the corner of your eye and don't go too far up the brow bone, and then blend like a madwoman!
- If you're still not convinced that you can carry off a lidful of bold eyeshadow, start small and use a colourful liner instead, tightlining with your usual black, brown or grey along the lashline if it's a light shade. And practise your flicking technique - even a teeny cat's eye flick at the outer corner adds interest and will help eyes appear larger.
Long-sighted?
- Steer clear of brights and shiny shadows which can amplify your eyes even more under your lenses. Neutral or muted tones in matte formulations will enhance those peepers without looking overdone, and you can opt for darker colours than the short-sighted gals.
- Use the darkest shade of your chosen colour across the crease of your eyelid and into the eye socket. Build it up gradually with a light hand being sure to blend well. This will make eyes appear deep set and help offset the magnifying effect of your lenses.
Finally, a really small amount of a subtle gold, silver or champagne shimmer well blended at the very innermost corner of the eyelid can help focus attention on your eyes, no matter how fabulous your frames!