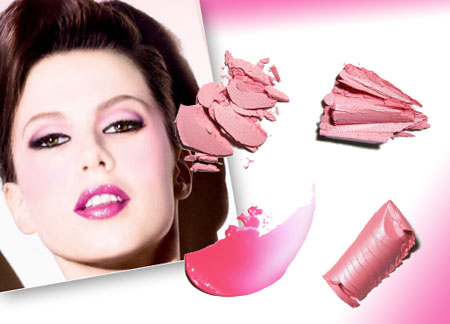 Listen, I'm just going to come right out and say it - pink eyeshadow is hard to wear well, there's no denying it. It's all too easy to look like you've pink eye (remember 'Superbad'..? Ewww), taken a thumping, or not slept for days on end. However, there's lots and lots and lots of pink shadow in the SS09 make-up collections we've been showcasing so sure there's no better time to have a crack at it - and pink on the eyes can look absolutely fantastic provided you go for the right shade, are meticulous with your blending, and make sure your complexion is made up flawlessly.
Pale skin with pink undertones? Blonde hair? Blue eyes? If you can say "yay" to any of these descriptions, choose pinks with a golden flash (that's a birrova shimmery undertone to you and I) - a soft, baby or pastel pink in a ballerina or rosey shade with a golden undertone would be a way to go, and could be paired with a bronze shade in the crease and outer corner for added intensity.
The green, hazel and brown of eye or those with darker hair or skin can afford to wear more opaque, pigmented, vivid, and hot hot pinks if you so fancy - just steer clear of very ruddy shades. The most universally flattering way to wear these pinks is to keep the drama to the crease and outer corner of your eyelid, pairing them with maybe a shimmery white-silver at the very inner corners and lashing on a dark liner and mascara for contrast.
Advertised
Now, regardless of which hue you pick, a bit of schparkly shimmer in your pink shadow will help to make it obvious that your hue isn't the result of a seasonal allergy or similar. As a rule of thumb, steer clear of the lower lashline. And if you're nervous about lashing pink on right across your eyelid, use it as an accent colour - with blacks, charcoals, greys, greens, blues and browns, as well as golds and oranges if you're feeling super-brave.
By the by: it's a common sense observation, but there's no point even attempting a wash of pink of any description across the eyelid if your eyes are already looking a bit tired or red or bloodshot! Hold off until they're back to their best.