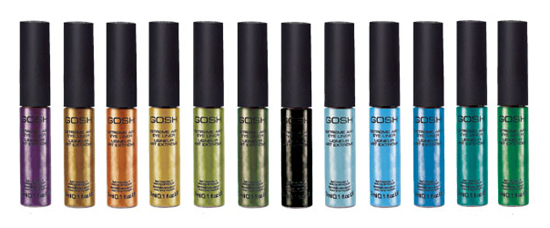 Dame Street's City Pharmacy got a visit from me at the weekend for some Lemsip for a poorly Himself. I was strolling home through the warm, sunny streets (oh for a few more days like that, eh?) when I stopped off to purchase, and while I was in the chemist I took a detour to the GOSH stand.
This is a company I always, always forget about. And unfairly so, because GOSH is a brand that fills a gap for affordable brights and is just that bit cooler than IsaDora. It hits the on-trend mark better - particularly so with regard to nail polish, colourful eye shadows and their Extreme Art Liners.
Speaking of Extreme Art Liners, these babies give MAC's Liquidlast a run for their money, and then some. At around a tenner, they're a good bit cheaper, too. I bought shade 02, a coppery-bronze that's bombproof. It lasts and lasts, and then oh - it lasts some more.  The shade selection, at 12, is one more than MAC's 11-strong offering and the colours are better too. I have three Liquidlasts and no more because none of the other colours in the range appeal.
Advertised
With GOSH, I want all the blues, all the greens, the black and the purple. Oh - so that's them all, then.
GOSH is available at Superdrug stores and selected independent pharmacies.