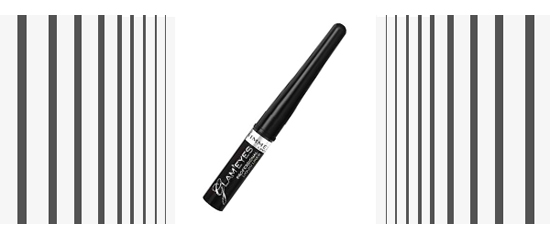 I'm not a make-up snob by any stretch of the imagination, but for some strange reason the Rimmel stand is one I don't usually make a bee-line for on my all-too-frequent Boots expeditions. Probably because I can't get next or near it for the hordes of teenage girls tearing it apart en route to wreaking havoc on the Urban Decay counter. However, the offerings that I have managed to get my hands on lately have been impressing me no end. Their Sexy Curves mascara (yep, the one in the purple tube with the wierdy knobbly brush) is now my daytime staple, and I've just rediscovered their liquid liners, which I probably haven't really used since I left school.
And that's neither today nor yesterday.
New for 2009 are Glam'Eyes Professional liquid eyeliners, €6.95, which are what I'm using and really liking and which are sister products to the Glam'Eyes Lash Flirt mascara that Aphrodite posted about a while ago. Available in 6 colours (black, silver, brown, plum, lime green, aqua), the liners come with an integral brush applicator that's long, slender, and tapered and offers very precise control. They dry to a lovely matte finish without flaking or caking - I loaded up layer upon layer of "Black Glamour" throughout Saturday, thickening the line as the day (and night) wore on and there wasn't a budge on the stuff.
Advertised
I can also report that there have been no instances of black inner-corner-of-the-eye eyeliner snot while road testing Glam'Eyes. Which can only be a good thing!