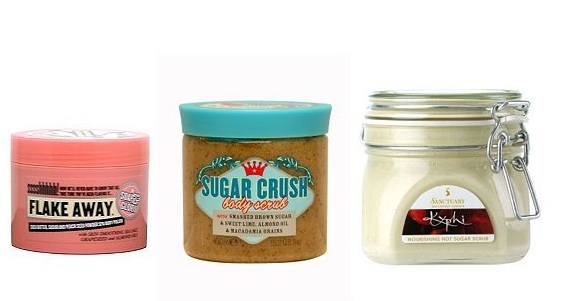 A friend of mine recently asked me for some recommendations for a body scrub. She had been using Clinique's Sparkle Skin Body Exfoliator and liked it, but thought it was probably a good idea to look for something a bit cheaper. "But please don't tell me to try olive oil and sea salt or something," she pleaded, "I'm not looking to make more work for myself!"
So with this brief in mind, off I went to check the shelves of Boots for some worthy and less pricey alternatives. Now just because you're spending less on it, it doesn't mean you have to accept an inferior product. There are some lovely products available that won't break the bank, and will even look good in your bathroom.
Under €10
Bliss founder Marcia Kilgore created the Soap & Glory line with the motto "you shouldn't have to spend an arm and a leg just to moisturise one" in mind and sure enough, there are a number of lovely scrubs available from the brand's Original Pink line at this bargain price point. Scrub Actually combines brown sugar, white sugar and apricot kernel oil for a smoothing and moisturising experience, Flake Away Body Scrub leaves your skin beautifully scented with bergamot and mandarin fragrances and softened with grapeseed and almond oils, while Scrub Of Your Life Smoothing Body Buffer is a foaming scrub ideal when you're in a hurry in the shower.
Under €15
Advertised
If you can afford to splash out a bit more, Soap & Glory's Spa line offers the very tempting Sugar Crush. It comes in a generous 450ml tub and contains brown sugar, sweet lime, almond oil and macadamia grains, for a truly mouth-watering scrubbing experience.
Another great option at this price is the Sanctuary Mande Lular Sensuous Body Scrub. Based on an Indonesian bath ritual, this scrub combines exfoliating rice bran wax, skin soothing turmeric and antioxidant vitamin E to help revitalise your skin, leaving it smooth, soft and glowing.
Under €20
A really decadent experience for the price level is the Sanctuary Kyphi Nourishing Hot Sugar Scrub. Packaged in a heavy glass jar, this is impressive to look at and contains natural sugar to exfoliate and smooth the skin, argan oil to moisturise, sacred lotus oil to smooth and fragrant sandalwood and vanilla to soften and hydrate.