 We've talked about different kinds of beauty wardrobes on here a bit before - we've had makeup capsule wardrobes, mascara wardrobes and fragrance wardrobes. I'm a big fan of the concept, and not just because I'm a product junkie who needs to justify the fact that I have four different shampoo bottles on the go in the shower at the moment.
The fact is I like to have different products to hand to choose between, depending on how my hair or skin is behaving at any given time, how much time I have to apply a product or simply what fragrance I feel like experiencing.
When it comes to body moisturiser, I have three bottles on the go at the moment: Avène Cold Cream body lotion, Trilogy Aromatic Body Oil and Dr Hauschka Quince body milk. They're three quite different products, but all suit my needs at various points, depending on how my skin feels.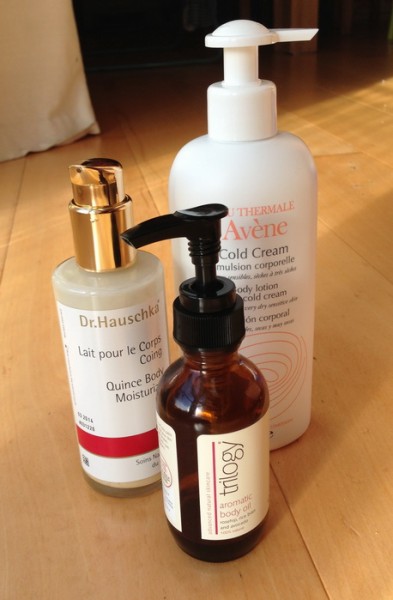 Advertised
Avène's Cold Cream body lotion (400ml, €23) is a bit of a lifesaver at this time of year if your skin is in any way dry. The rich, creamy formulation nourishes and soothes dry, itchy skin and it's the product I go to when the weather is particularly cold, as it has been this past weekend. It's also what I reach for after shaving or exfoliating, when my skin needs a boost of hydration as well as the calming sensation it leaves behind, thanks to the high content of thermal spring water in the lotion.
By contrast, Dr Hauschka's Quince body milk (145ml, €24) is a much lighter lotion. It spreads easily on the skin and absorbs very quickly, so it's ideal for use if I'm dressing to go out very soon after applying. Despite this, it does provide good levels of moisture, though it's a product I'm more likely to use in warmer weather or when my skin is not feeling too dry. The fresh, bright fragrance is also nice for an invigorating start to the day.
I've reviewed Trilogy's Aromatic Body Oil (100ml, €20) here before - it was a product I particularly loved to apply daily after showering when I was pregnant. These days I use it regularly after my yoga class. The lightweight oil blend is ideal for massaging into tired limbs and the relaxing fragrance makes it ideal for winding down in the evening.
Do you like to vary your body care products or do you have one firm favourite? Let us know in the comments!