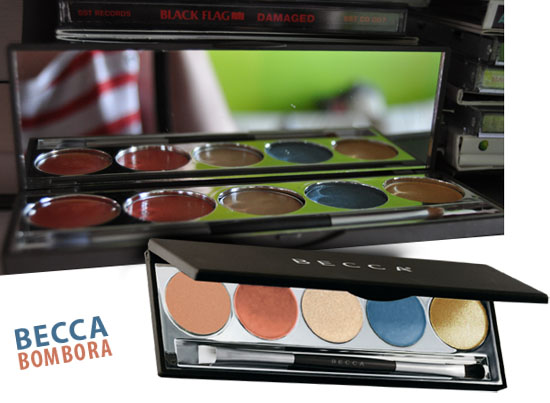 Now, this here represents a bit of a departure for Aussie brand Becca, I reckon. A company who do very pretty sheer textures and wearable shades, this is practically screeching colour for them. But paying homage to the outdoors, easy-going way that characterises so much of life down under, this is pretty fitting. Inspired by the country's surf culture, the limited edition Bombora palette, €69, contains four summery shades and an eye-popping (for Becca) blue inside a signature rubberised case.
Three are cream formulations, and technically the pair on the end aren't shadows at all - nope, they're powder liners in raffia and sunburst, which you use with a damp brush for extra intensity. The other three shades are, from left, a lip gloss in mai tai, a lip and cheek cream in bougainvillea (a g-g-g-gorgeous coral, yep, another one), and a highlighting creme in mazu. So, basically everything you'd need for a summery face if you matched it with a little tinted moisturiser and a mascara.
The press pic kind of flattens how the textures appear so above is a hastily-taken shot (complete with Black Flag CD) where you can see the balance between the glossy end and the matte end. In person, the dry powder liners are fairly matte, but transform to a lovely pearlised shimmer when applied wet. The included brush is decent too, with one natural end for liner and a synthetic end for the cream formulations.
Advertised
This'll be on counter from the first week in April at stores like Arnotts and Mise Beauty.