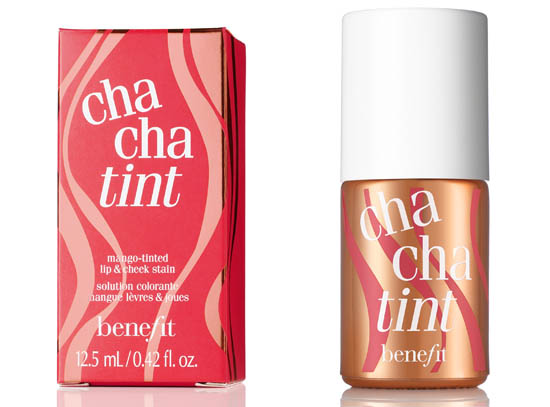 When Benefit launched Crescent Row, I was lucky enough to get a sit down with the brand's founders, Jean and Jane Ford. One of the many things I put to them were some questions about future releases. I'm a big fan of Benefit's boxed powders, in fact they are my favourite product the brand does, and I'm a sucker for anything tinty too. Around that time, the love for Coralista was strong,  and I wondered, would they ever do a coral tint? They said they would at some point, but to keep it under my hat. Duly noted, so I kept schtum.
When I saw Cha Cha tint on US blogs Make Up And Beauty Blog and Musings of a Muse this week I did a happy jig-slash-hand-clap and then got onto the UK and Ireland press office at the speed of flattering blusher approaching a wan face. Quickly, y'unnerstand. For Cha Cha Tint is Benetint and Posietint's new watery mango-shaded companion and it will join the Benefit product line up in Ireland on June 25th. It'll cost us €33.50.
Yep, I know it's a while to wait. But it's coral-y orange! And oh boy oh boy oh boy I bet it'll be worth it. I think I'm getting a sample in the post so I'll swatch and review in due course, in the meantime, head to Karen and the Muse's blogs to check their thoughts and see their swatches.
Advertised
What do you think? Will this be one you'll queue for?