 By gum, there is a *lot* in-coming from Bobbi Brown for November and December, and if I don't stop wittering this'll be a very long post indeed, so lets get to it!
November
November's got a lot of stuff going on, like this pretty trio, below.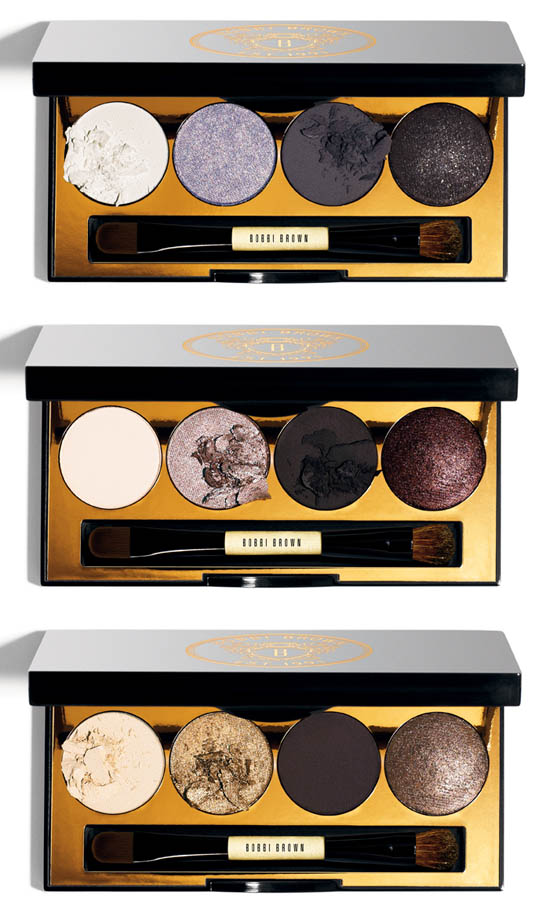 These are Pretty Powerful Eyes palettes, limited edition, and they come in three colourways; Smoky (top), Smouldering (middle) and Sultry (bottom). Each costs €38 (the Sterling cost is £34, making them an excellent purchase) and each features three shadows in varying finishes as well as a Long-Wear Eye Paint - the right-hand shade in each kit. Long-Wear Eye Paints are a new formulation to the range and are high-pigment metallic powder shadow that can be used wet or dry for greater or lesser intensity.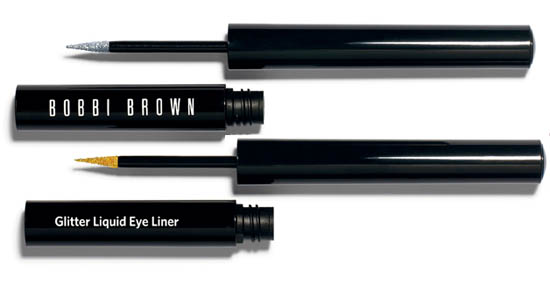 To go with those babies, we've also got some limited edition Glitter Eyeliners. We've already seen some nice giltter and old-gold liners from Illamasqua and Bourjois and these two look worth a punt as well.  Long-lasting and waterproof, these come in gold and silver for €20.50 each.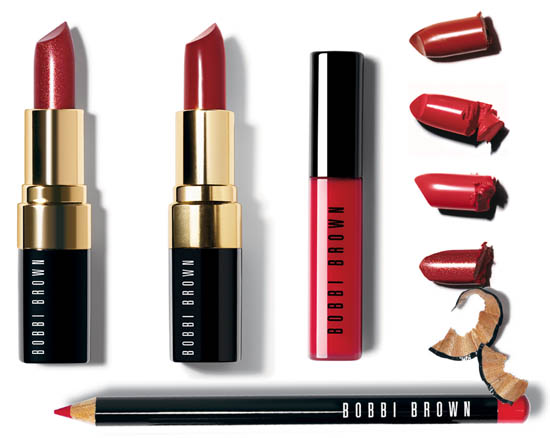 It's Christmas - well, nearly - so we've got some reds. This is a bit of a departure for Ms Brown and this lineup features, if I'm not mistaken, her first red lip liner.  It's €22 and it'll work its magic with Metallic Lip Colour in Jewel Red, left, €22.50. There are also three shades of Lip Colour in-coming. We'll be seeing these in Vixen Red, Vintage Red and Hollywood red for €22.50 a go. Lastly there are two new red gloss shades. Lip Gloss in Red and Scarlet will cost €21.50.
All the lip products will join the permanent collection and they - as well as the Pretty Powerful Eyes palettes and the liners - landed on counter yesterday.
So that's November's makeup launches looked at: what else have we got to ogle?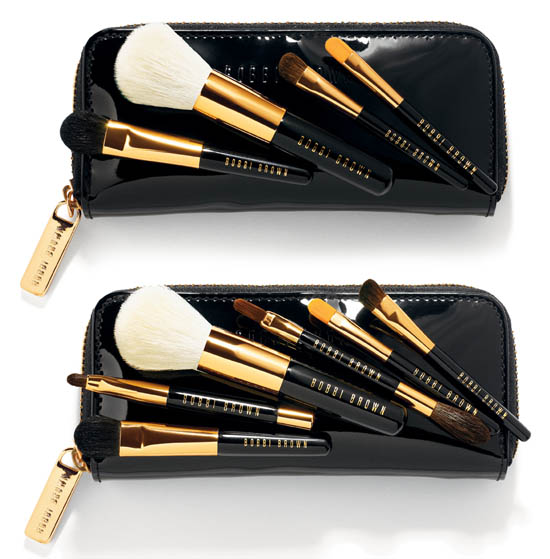 Brushes!  To the top is the Mini Brush Set, €60, which contains a mini face blender, eye sweep, angle eye shadow and eyeliner brush. Below it is the Deluxe Mini Brush Set, which, at €80, has all of the above excluding the eyeliner brush but including mini lip, dual ended concealer and blender brushes.
Advertised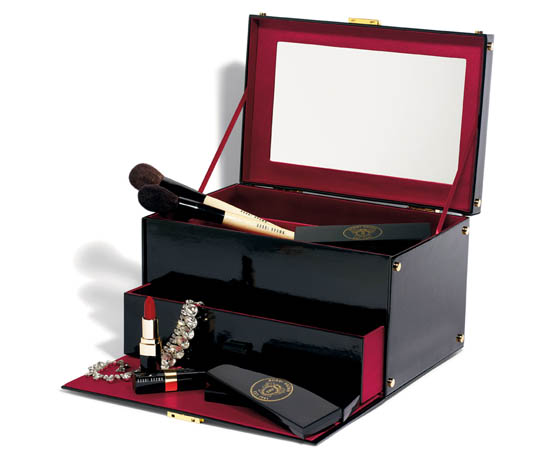 This piece of kit is the Deluxe Beauty Trunk and hold on to your hats  - it's €400 and no, you don't get anything in it.  Designed to be your ultimate beauty organiser, this has two pull-out drawers and is clad in faux leather. Brown Thomas exclusively is the stockist for this, as far as I know.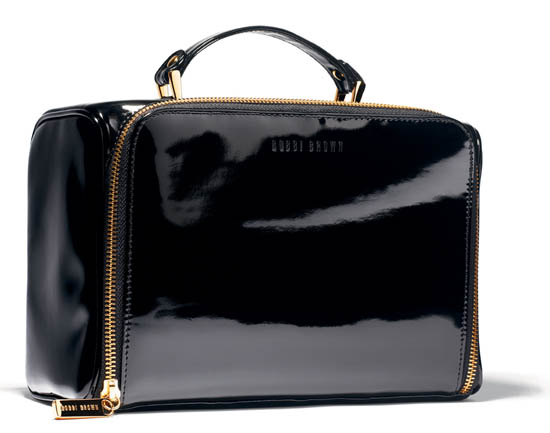 Liking the sleek look of this a lot too: this is the Deluxe Travel Kit, €100. Faux leather again, this has six interior compartments to help you organise your beauty booty as well as a detachable makeup bag to fit your handbag.
All the kits and brushes also landed yesterday. I suggest if you want any of 'em, you act quickly!
December
November's the big month for the brand but that doesn't mean we're not treated to a few new goodies in December, like a new beauty collection, Bare to Bold.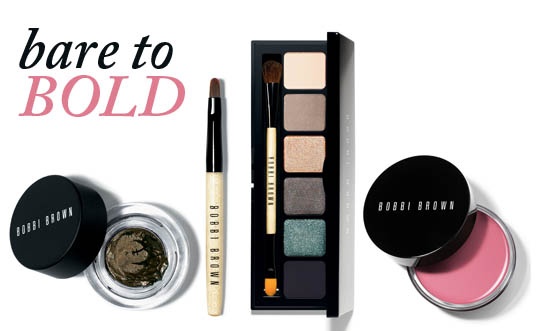 This is pretty short and sweet: just three products for a simple face. While I do love the look of that palette, it's the Pot Rouge for Lips and Cheeks over there on the right that really makes my heart race. What a fabulous shade! Total bubblegum pink, I think I need to own this, though for cheeks only - I don't like these pots on lips, finding them too drying. The colour is Pink Raspberry and it'll come in at €26.
Eyes get the Long-Wear Gel Eyeliner treatment in Bronze Shimmer Ink, €22. This doesn't grab me as it looks very similar to one already in the lineup, Forest Shimmer Ink.
Lets take a closer look at the palette, shall we?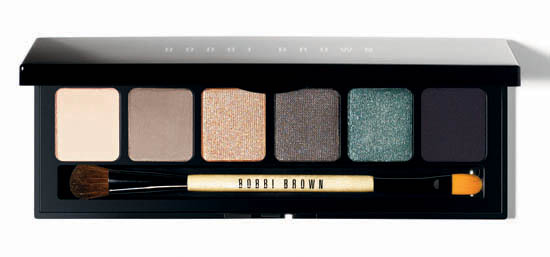 Designed to work two looks, bare (the first three) and bold (the latter trio), the Bare to Bold palette is €43 and contains a really nice combination of six shadows in varying finishes: Najavjo and Cement are mattes, Champagne Quartz is a metallic, Quarry is a shimmer wash, Mosaic is a sparkle and Caviar is a matte. For use both day and night, this also comes with a double-ended brush in a signature black lacquered case. All Bare to Bold products land on December 1st.
Advertised
So girlies, this is it from a much beloved to Beaut.ie brand until 2011. What do you think? is Bobbi Brown ending 2010 on a high?