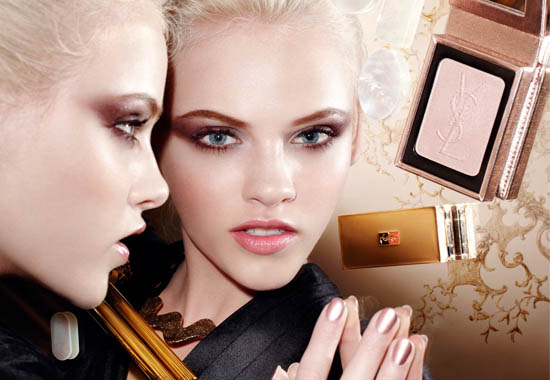 Stuck for last-minute Christmas inspiration?  Take a little gander at this lot from YSL - equally suitable for self-gifting and for luxe stocking fillers, the Christmas look, Metallic Colorama, is already on counter and is predictibly good.
I like this brand more and more as time goes on, I must say. It is so much more than the sum of Touche Eclat, a product I have no particular faith in. What I do put my trust in is the brand's foundation, shadow, mascara and lipstick. Gorgeous packaging complete the lust have-ness of so many of its offerings; Christmas is no different.
Lets take a looksee, shall we?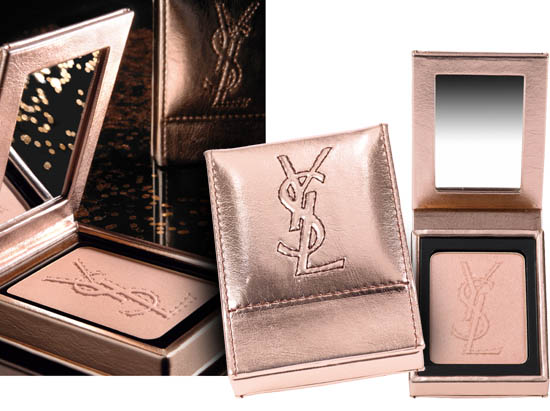 Here's the star product, a limited edition. It's inspired by the brand's new Belle de Jour 'Metallic Colorama' limited edition collection of accessories, and is designed as a complexion highlighter. Use it lightly all over the face or brush it on cheeks and brow bones to accentuate and catch the light. The damage?  €55, ma'am.
Advertised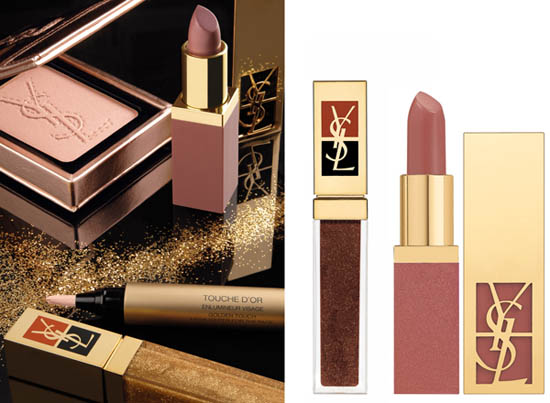 Some nice lip bits are also available: Rouge Pur Shine (gloss-like finish) comes in two shades, No 34 – Or Métallique and No 35 - Rose Métallique, €30 each. Golden Gloss, €28, the brand's super-sparkly gloop, is available in four shades: No 35 – Golden Carat, No 36 – Golden Chocolat, No 37 – Golden Rouge and No 38 – Golden Champagne. What's that other yokey there with the brush top, though?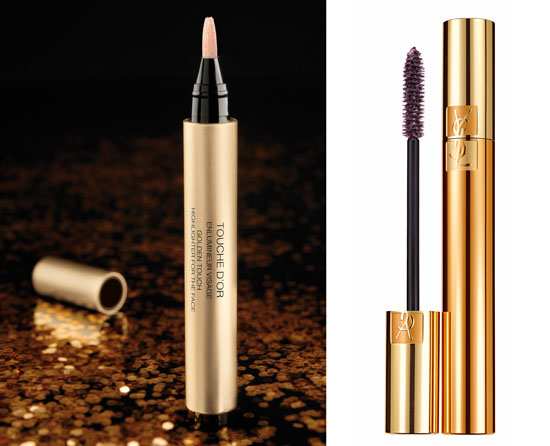 Aha! This is limited, it's called Touche d'Or, €35.50, and it's a face highlighter designed to deliver radiant skin.  You can use it to add sheen to eyes and lips as well. It's joined there by Mascara Volume Effet Faux Cils in Pourpre, €31.
There's also an Ombres Duolumieres shadow in No 33, Gris Argenté / Prune Dorée, €40, the last thing we're gonna take a look at are the nail polishes.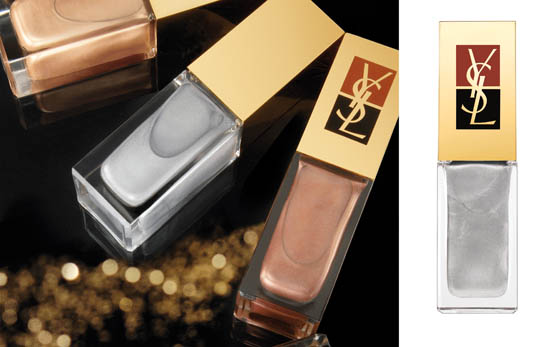 La Laque nail lacquer, €24, comes in three shades: aged gold, rosy copper and brilliant silver, or No 139 – Or, No 140 – Or Rose and No 141 – Or Blanc. Hmm. Hmm now. These look like they might fit my criteria for yuckky mammy pearly metallics but I live in hope.
What would you buy from the collection?
Advertised